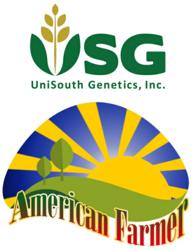 Dickson,TN (PRWEB) May 09, 2013
UniSouth Genetics, Inc. announced that they will be featured in an upcoming episode of American Farmer airing later this year on RFD-TV.
In this episode, American Farmer will explore UniSouth Genetics, a non-profit co-op seed company, which provides a variety of wheat and soybeans to dealers and farmers over a 15-state region in the mid-Atlantic and Southern State areas. Viewers will learn about UniSouth Genetics' seed traits, which have been specifically adapted to various climates and soil conditions and have been tested and proven for positive results.
"USG's main focus is seed quality," said Stacy Burwick, President at UniSouth Genetics. "All of our seed is third party inspected by a state seed certification agency for purity. When a farmer buys a bag of USG seed he can rest assured that he is getting what he paid for; a high quality and high yielding product."
"We are very excited to partner with UniSouth Genetics on this project," said Charles Cowan, producer for American Farmer. "They're doing some great things for the farming community, and we can't wait to introduce them to our viewers."
About UniSouth Genetics:
UniSouth Genetics is comprised of family owned and operated seed producing dealerships across the mid-south and east coast. Each USG dealer has many years of experience and knowledge of the seed industry and are always ready to help their farmers make choices of the right seed for their farms.
For more information, visit: http://www.usgseed.com or call 1-800-505-3133.
About American Farmer:
American Farmer is a breakthrough program on a mission to showcase the latest advancements in agriculture and farming. From seed to harvest, livestock and more, our producers have traveled the country covering the people, places and issues impacting all areas of farm country.
American Farmer airs Tuesdays at 8:30am EST on RFD-TV as well as Saturdays at 1:30pm and Midnight EST on RURAL-TV.
For more information visit: http://www.americanfarmertv.com or call (866) 496-4065.
Media Contact:
Charlie Cowan, Producer
(866) 496-4065 x 875
charlie(at)americanfarmertv(dot)com