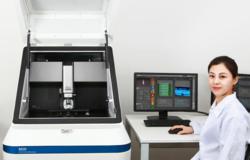 "Park Systems has consistently provided us with work-horse industrial AFM systems for our nano-metrology applications for many years to ensure that these systems are optimized." Park AFM Customer
Santa Clara, CA (PRWEB) May 10, 2013
Park Systems, world leader in atomic force microscopy (AFM) for the semiconductor and hard disk markets introduces Park NX20, an enhanced design of the already successful XE series that assures the highest level of precision for roughness measurement and defect review. Park NX20 is designed to guarantee reliable, reproducible results for better output in failure analysis (FA) and quality assurance (QA) laboratories.
Park NX20 is equipped with unique features to provide powerful failure analysis solutions. The NX20's unparalleled precision provides high resolution data that make it easier to uncover the reasons behind device failure and develop more creative solutions. The non-contact mode technology preserves tip sharpness for surface roughness accuracy and extended tip life.
"Our proven technology guarantees reliability in the most demanding applications for nanoscale measurements and is designed to meet today's rigorous standards that industry demands." said F Dr. Sang Li Park, Founder and CEO of Park Systems. "The NX20 builds on our long history of technology leadership in AFM accuracy and our reputation as the nanotechnology solutions partner for research and industry. Our unique True Non-Contact Mode preserves the tip ten times longer than competing products for extended tip life while also providing highly accurate measurements and images for the most critical analysis requirements."
Park's True Non-Contact Mode™ is designed so the probe tip reliably remains above the surface of the sample because of the decoupled Z-dimension positioning servo. This provides the user with the fastest response time in the industry. Using Park Systems True Non-Contact Mode™ technology delivers non-contact AFM imaging without compromising measurement accuracy, resolution, or user productivity. An important advantage is that this will dramatically reduce tip replacement costs by extending tip lifetime, resulting in cost savings.
Park NX20's user friendly AFM is specifically designed for customers without extensive AFM training and features like automated design help save time throughout the process from wafer placement to final scan measurement.
Park Systems success in creating solutions in AFM technology is evidenced by this comment from the Director of Metrology from a long-term customer. "Park Systems has consistently provided us with work-horse industrial AFM systems for our nano-metrology applications. For many years now the whole Park team has been partnering with us to ensure that these systems are optimized and delivering better than 96% E10 availability in support of our 24/7 operations."
Another advanced feature of the NX20 for FA reliability is True Sample Topography™, Park Systems' unique technology for measuring the Z position with an industry-leading low noise Z-detector. This feature removes the effects of edge overshoot or piezo creep.
"The shrinking of critical dimensions to nanoscale level and ever increasing device complexity demand increased quality and repeatable accuracy to improve research, analysis, and ultimately device yield. The Park System NX20 True Sample Topography enables accurate surface height recording of the sample surface with its industry leading low noise Z detector," said Ryan Yoo, Vice President of Global Sales and Marketing. "Our understanding of the Semiconductor industry's need for an advanced AFM with an affordable lifecycle cost that not only meets but exceeds industry standards for accuracy, productivity and reliability is why we are the AFM of choice for the leading Semiconductor hard disk companies worldwide today."
With the introduction of ParkNX20, Park Systems launches an AFM built for the needs of FA and QA labs. The high-end, large sample design provides the accuracy and productivity demanded by manufacturing semiconductors and hard disk drives, while lowering product life-cycle costs. It also addresses the future with the flexibility to add a multitude of available AFM modes, including advanced options and modes for failure analysis and quality assurance that are in development. Technical data and sample measurements are available on request. For more information please contact inquiry(at)parkAFM(dot)com or visit http://www.parkAFM.com/nx.
About Park Systems
Park Systems is a world leading manufacturer of atomic force microscopy (AFM) systems with complete range of products for researchers and industry engineers in biological science, materials research, semiconductor and storage industries. Park's AFM provides highest data accuracy, superior productivity, and lowest operating cost. Park Systems is the world market share leader in automated AFM for semiconductor and hard disk industries. To find out more, please visit http://www.parkAFM.com or email psi(at)parkafm(dot)com.