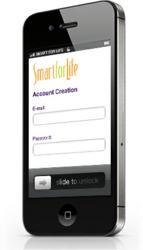 We didn't make the app very complicated on purpose. There are a lot of apps out there that are just too complicated to use.
Dr. Sass
Boca Raton, FL (PRWEB) May 09, 2013
Smart for Life® just keeps getting better. They just won a Manufacturer of the Year award and are now launching a state-of-the-art web application to help you stay healthy. The Smart for Life® BMI Smart App is an easier, more efficient way to keep track of clients' weight loss.
Smart for Life® centers, affiliates and coaches no longer have to keep track of clients on Excel sheets and notepads. The BMI Smart App will give users an opportunity to give clients an immediate solution to their specific poor-eating habits and track their success right from their phone, computer or tablet.
The app will be used to track BMI, or body mass index, of their individual members. A client's body mass index number is the measure of body fat based on height and weight that applies to adult men and women. Tracking this number allows lifestyle coaches and Smart for Life® centers to update clients on their success throughout the diet program. To read more about the app, visit the Smart for Life® BMI Smart App Information Site.
Lifestyle coaches and centers will be able to find and add their clients to their own personal app dashboard. With just a simple click of the screen, users can view detailed reports about their client's journey while using Smart for Life®. This isn't just another app – this could soon be used as much as your Facebook or Twitter app.
"We didn't make the app very complicated on purpose. There are a lot of apps out there that are just too complicated to use. You have to be a scientist to use them and people just give up," said Dr. Sass Moulavi, Medical Director of Smart for Life®.
Smart for Life®, a weight-loss company most known for their cookie diet, provides customers with a healthy, easy to follow functional meal replacement system. Once overweight himself, Dr. Sass wanted to improve people's lives by providing a quick, safe, easy and affordable way to control weight.
Dr. Sass has dedicated his life's work to finding easily palatable solutions to help clients curb their hunger.
With Smart for Life®, there is no counting or preparing. The lifestyle program is designed to fit into any lifestyle by providing the necessary foods you need to diet, control hunger and lose weight.
Smart for Life® uses mostly organic ingredients that are free from preservatives, pesticides and toxins; which provides customers with a variety of healthy hunger controlling products such as the Irresistible Winner Peanut Butter Cookies, various flavors of Gluten-Free Protein Bars and many more delicious functional meal replacements.
Watch Dr. Sass himself answer questions explain the app further on Smart for Life® Cookie Diet News Channel. For more information on Smart for Life ® products, programs and BMI Smart App, please contact Andrew Margolin at AMargolin(at)SmartforLife(dot)com.