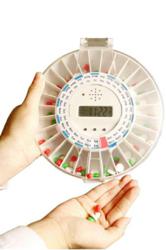 The MedPro Lite provides the organization necessary for managing prescriptions along with reminders.
Pittsburgh, Pennsylvania (PRWEB) May 13, 2013
When an individual is facing a complicated medication schedule, it can be a daunting challenge. There is no room for error when it comes to prescription drugs because the consequences can be catastrophic – including death. Automated Security Alert has a solution to help people deal with this problem: The MedPro Lite travel pill dispenser. Jason Seyler, Automated Security Alert's Director of Life Safety is excited about the product. Seyler commented, "The MedPro Lite is great for people who need an entry level medication management solution. It provides the organization necessary for managing prescriptions along with the reminders."
Although some people can be helped by the basic flip lid pill trays that are available at any drug store, they aren't right for everyone. They are only effective if the patient is able to fill them correctly and can remember to take every dose at the right time. For people who may need some help in keeping up with their dosage, Automated Security Alert offers both monitored and unmonitored medication dispensers.
The MedPro Lite is a non monitored medication dispenser that is great for patients who want a medication dispenser but who are not dependent on a monitored system. The MedPro Lite is also perfect for those on the go who need to travel with their medications. It's also an excellent choice for a patient recovering from injury, surgery, or an illness who might not need to subscribe to a year-long monitoring commitment.
The medication dispenser can hold 28 doses in separate containers, and will sound an alarm and flash a light when it's time for the patient to take their medication. The MedPro Lite travel pill dispenser features an easy to set timer and can deliver up to four doses in a day.
The Pittsburgh-based firm Automated Security Alert is committed to helping seniors and physically-challenged persons remain independent in their own homes and on the go for as long as possible, and is committed to helping recovering patients transition back home after extended hospital stays.
For further information, please contact Matthew Couillard at 1.800.338.7114.