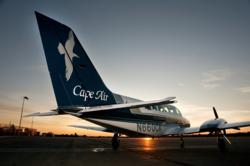 "Cape Air's roots are on Cape Cod and the Islands. Providing a connection between New York and the Mid-Cape was a natural fit for us, and more importantly, was routinely requested by members of both communities."
-Dan Wolf, Cape Air Founder & CEO
Hyannis, MA (PRWEB) May 16, 2013
Cape Air will expand its reach with the addition of seasonal service between Hyannis and New York. Beginning on June 14, travelers can fly directly between Barnstable Municipal Airport (HYA) and Westchester County Airport (HPN) in White Plains, NY, or continue through to Manhattan using Cape Air's optional limousine transport, which takes passengers from Westchester County Airport to the heart of Manhattan at 35th Street and 8th Avenue.
The new New York to Hyannis route complements Cape Air's existing NY Connection, which includes service between Manhattan and White Plains to Provincetown, Nantucket and Martha's Vineyard. These fast, frequent flights to the Cape & Islands allow travelers to start their vacation easily and quickly - without the hassle of bridge traffic.
Customers can book their flights between Hyannis and White Plains or New York City by visiting Capeair.com, or by calling 800-CAPE-AIR. When booking service to 35th Street and 8th Avenue, online shoppers should select ZYP (New York City) as their destination.
About Cape Air:
Now in its 24th year, Cape Air is one of the largest independent regional airlines in the United States annually flying over 700,000 passengers to destinations around the world including New England, New York, the Caribbean, Florida, the Mid-Atlantic, the Midwest and Micronesia. With a fleet of sixty-six Cessna 402s and two ATR-42s, the employee-owned company operates up to 700 flights per day. Based in Hyannis, Massachusetts, Cape Air also operates flights under the Nantucket Airlines brand. Cape Air is a codeshare partner with United Airlines in the Caribbean and American Airlines in the Caribbean and Midwest. In Micronesia Cape Air operates as United Express. In addition, Cape Air has ticket and baggage agreements with most major airlines. Cape Air's unique brand of customer service, MOCHA HAGoTDI,* has earned the airline accolades as 'Best Airline' on Nantucket, Martha's Vineyard and in the United States Virgin Islands. The airline has been recognized for outstanding philanthropy in the communities it serves and Cape Air Founder and CEO Dan Wolf was recipient of the Ernst & Young Entrepreneur of the Year™ Award.

Make our Customers Happy and Have a Good Time Doing It