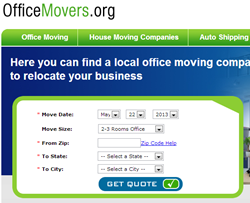 Office Movers | Commercial Movers | Office Moving Company
(PRWEB) May 13, 2013
Office Movers, a company specializing in office moves, with a database of pre-screened companies, is ready to offer their expertise in all aspects of moving. They have now aannounced a new specialty; focusing on international moves.
While local moving companies can handle moving goods from one local location to another, international moving companies specialize in handling all of the logistics of moving across borders, from basic packing and shipping to the tedium of ensuring that customs forms have been filled out correctly and filed with the proper authorities in both countries. OfficeMovers.org offers access to trusted international movers, whether the priority for the move is time or price.
Hiring an international mover through OfficeMovers.org will give customers the freedom to deal with other aspects of the move. When using Office Movers to hire an international mover, customers can be assured their belongings are in good hands and will arrive safely at the new destination. Visit Office Movers today to start receiving bids and ensure that that an international move is stress-free!
About http://www.OfficeMovers.org
Office Movers is an experienced moving service company that has been in business for the past 20 years. Office Movers provides moving and storage services for corporate clients, servicing local, interstate, and international moves. Additionally, OfficeMovers.org provides disposal, distribution and crane services. OfficeMovers.org has containers for overseas shipping, and weatherproof steel containers for storage. Vehicle shipment and storage is also available