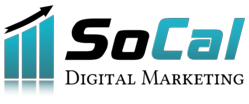 Our team has always been enthusiastic and willing to go beyond our clients expectations to achieve complete satisfaction. I believe that this is the main reason to be attributed to our growth
Orange County, CA (PRWEB) May 08, 2013
SoCal Digital Marketing, a Website Design and Internet Marketing company in Orange County, California is celebrating their Anniversary with a special promotion for new SEO clients. SoCal Digital Marketing has grown extensively this passed business year and continues to achieve a high growth rate. SoCal Digital Marketing added three new sales associates, a graphic designer, and two full time content writers to the team this past year. Andrew Guida, the CEO and owner of SoCal Digital Marketing explains their success "Our team has always been enthusiastic and willing to go beyond our clients expectations to achieve complete satisfaction. I believe that this is the main reason to be attributed to our growth. SoCal Digital Marketing went from a local Website Design and Internet Marketing company serving Southern California, to having clients nationwide and working on projects in London, England and China."
Currently the company is offering a 25% discount on any SEO plan and including 5 additional keywords for all new clients who sign up for the company's SEO services. The owners of SoCal Digital Marketing have developed a variety of SEO packages for small to large national businesses who want to see their websites climb the search engine rankings. Internet marketing and SEO in particular has been the fastest growing marketing channel because users are searching online for products and services so, if they find your company they are more likely to convert and buy. Now between May 8th and May 15th new clients can take advantage of the significant savings the promotion offers.
The SEO packages offered are some of the most comprehensive in the industry. There are four distinct packages that cover every aspect of SEO. The SEO local package helps small and newly established websites get noticed, while the comprehensive SEO campaign package helps large and well established firms break through the rankings in national terms. In between there are the SEO Competitive Package and the SEO Enterprise Package that cover everything any company would need in the world of SEO including online press releases, social media marketing, competitor analysis and reports, content driven linkbuilding and more.
SoCal Digital Marketing helps their clients attract more visitors, increase conversions, maximize keyword rankings and drive traffic to their website. In today's competitive world SoCal Digital Marketing can also accommodate clients in need of a complete social media marketing plan that is integrated into their SEO campaigns. Many companies are finding that a website alone is not enough and that they have to actively drive traffic to their site.
Andrew Guida explains the plans for this year, "Our Company is committed to growing and staying innovative in the internet marketing and website design industry. We are always adding and modifying features of our services such as adding Press Releases, blogs to our client's websites, more reporting tools, or new designs features to capture more sales and leads. One of the major new changes for our company will be a new website redesign that can capture leads and generate traffic nationwide."
Those interested in learning more about the promotion and SoCal Digital Marketing, a Website Design and Orange County SEO Company can visit the company's website or call directly to 949.309.8845.
###