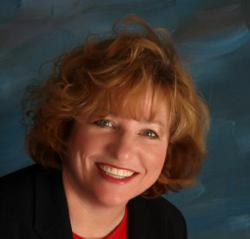 Trade show content marketing ignites interest and builds relationships.
Barrington, Ill. (PRWEB) May 09, 2013
Content marketing has become a buzz phrase for good reason. Joanne Costin, co-founder of Content For Biz, will explain how exhibitors showcasing their products at one of the largest construction industry events can use trade show content marketing to meet their objectives before, during and after the show.
Costin is speaking at the Associated Equipment Manufacturers (AEM) Marketing Council Seminar and Exhibitor Education Meeting, May 13-15, 2013, at the Intercontinental Hotel in Rosemont, Ill. Her presentation, titled "The Buzz About Content Marketing," will compare traditional marketing with content marketing, and share ideas for content that can help marketers nurture their leads and drive show traffic. "Trade shows are a great way for attendees to experience a brand," said Costin. "Companies that position themselves well with pre-show articles, press releases, video, and blog posts will see better results at the show and online. During the show, marketers can share content with attendees in real time through social media. After the show email marketing is a good follow-up channel. Trade show content marketing ignites interest and builds relationships."
Topics Costin will address include how to develop content for specific market segments and which channels to use. She will provide examples of effective content that drives attendee interest, boosts exhibit traffic and increases engagement with a company's brand.
The meeting is open to all registered exhibitors of the 2014 CONEXPO-CON/AGG trade show to be held in Las Vegas, March 4-8, 2014.
About Joanne Costin
Joanne Costin is a business journalist, content writer and content marketing strategist. She is a veteran of the publishing industry where she marketed leading B2B magazines including Construction Equipment, Building Design & Construction, and Heavy Duty Trucking.
About Content for Biz
Content For Biz is a marketing communications company specializing in content writing services, content strategy, and public relations for B2B companies.