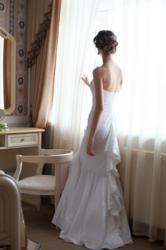 Newport Beach, CA (PRWEB) May 09, 2013
Jessica Biel wowed the world when she tied the knot with Justin Timberlake last fall in a bubblegum-pink wedding dress. Now, wedding dress designers have taken a cue from her dress's popularity by steering away from the traditional white gown and instead, saturating them with color.
(http://www.torontosun.com/2013/03/08/top-spring-2013-wedding-gown-trends).
Colored wedding dresses were splashed all over last fall's runway shows, from Vera Wang to Maggie Sottero. White doesn't always compliment a bride's skin tone, making dresses from blush to even black popular choices for this year's brides. These eye-popping colors also give brides the chance to incorporate their individuality into their special day.
"Your wedding day is all about expressing yourself and your love," says Brett Reynolds, CEO of Wedding.com. "Brides should feel free to show off their personalities, and a colorful dress may be just the way to achieve this."
During wedding planning, brides choose the color for their bridesmaid dresses, flowers, table settings and more. But they don't always take time to consider what color their own dress will be. They often assume their dress needs to be white or ivory, which is no longer the case. Brides who have become overly-stressed by wedding planning may find that when the big day arrives, seeing themselves in something bright and beautiful can automatically alleviate some of that stress and make them instantly feel special.
For those brides who do prefer the traditional, but would still like to include color in their wedding day ensemble, colorful sashes and shoes can add a wow-factor without being over-the-top.
As evidenced by Honey Boo Boo's mom, June, during her May 2013 nuptials, dresses that are too extreme can solicit negative attention. For many, her camouflage and orange wedding dress was more of a shocker than a stunner. The key to pulling off a colored wedding dress is to make sure it still looks like a wedding dress.
Whether this trend is here to stay is to be determined. But one thing is for sure: this season, bridesmaids won't be the only ones walking down the aisle in hot hues.
About Wedding.com
Wedding.com is an innovative new website that connects engaged couples planning their wedding with wedding vendors looking to grow their business. Wedding.com contacts vendors for couples, giving them the power to compare and negotiate while ultimately saving time and money. With 15,000 couples and 25,000 vendors currently using the website, 150,000 proposals have already been sent since their inception. Vendors range in services from wedding planners, photographers, florists, and DJs to custom invitations, party favors, and much more. For additional information about the company and its services, please visit Wedding.com.