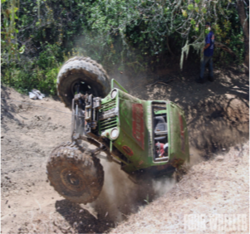 Hollister, CA (PRWEB) May 08, 2013
Four Wheeler's Top Truck Challenge, one of the most unique and challenging off-road competitions in the world, celebrates its 21st year this June to determine who is truly the best of the best in a series of wild off road truck events.
Ten competitors will square off over five exciting days at the Hollister Hills State Vehicular Recreation Area in Hollister, California. Readers of Four Wheeler submitted entries that were voted on by their peers via the magazine. One of the many highlights for the upcoming 2013 event includes two brothers pitted against each other in a Chevy versus Ford battle for family bragging rights. All participants will pull out all the stops to come home with the coveted Top Truck Challenge trophy.
The Top Truck Challenge has become legendary for its over-the-top event portfolio that is designed to be the ultimate off-road competition for both driver and machine. This year, they are dropping the Mini Rubicon event, and replacing it with the brand spankin' new Coal Chute event. The Coal Chute utilizes a newly developed area of the Hollister Hills SVRA and will join the other six stages of competition: Hill Climb, Obstacle Course, Mud Pit, Frame Twister, Tow Test and Tank Trap. The competitor with the highest aggregate score will be crowned the Top Truck Challenge Champion.
"This is an exciting year for Top Truck Challenge," said John Cappa, editor of Four Wheeler. "For the first time ever the readers have voted in 7 of the 10 competitors with full-size trucks. Add in the all-new Coal Chute and we should see some impressive displays of horsepower, driving skill and raw carnage!"
The Four Wheeler Top Truck Challenge will take place in early June. The event is closed to the public, however fans can get daily updates at http://www.fourwheeler.com and on Facebook at http://www.facebook.com/fourwheelermag.
For a quick overview of Top Truck Challenge, check out: http://www.youtube.com/watch?v=Lx4IzP8ZxUw
2013 Top Truck Challenge competitors:
Joshua Middleton, Shelton, Washington 1979 Ford Bronco
Justin Middleton, Shelton, Washington 1978 Chevy Blazer
John Retzloff, Covelo, California 1977 GMC K15
Nolan Skopliak, Maple Ride, British Columbia, Canada 1987 GMC Jimmy
Jennifer Smith, San Martin, California 1968 Ford Bronco
Aaron and Lisa Fava, Gold Beach, Oregon 1989 Chevy Crew Cab
Paul Boundy, Grafton, Ontario, Canada 2003 Chevy Silverado 1500 HD
Glen Green, Winfield, British Columbia, Canada 1979 Ford F-350
Pepe Palomo, Fontana, California 1999 Toyota Tacoma
Matt Huit, Spokane, Washington 1981 Volkswagen Rabbit pickup
About Four Wheeler Magazine:
Four Wheeler Magazine, a Source Interlink Media publication, is the country's oldest and most respected four-wheel drive enthusiast publication, with a readership of more the 2.2 million. Published monthly since 1962, Four Wheeler editorial includes basic-to-advanced DIY tech, worldwide events and after market trends. Vehicles covered range from late-model daily drivers to advanced trail rigs.
About Source Interlink Media:
Source Interlink Media, LLC is the premier source of special interest media in the United States. With more than 75 publications, 100 Web sites, 800 branded products, 50+ events, and TV and radio programs, SIM is the largest provider of content to enthusiast communities interested in automotive, action sports, marine and other niche activities. The division's strategy is to wholly focus on targeted audiences by leveraging and expanding upon its core market-leading brands through a multiplatform media approach.
# # #
Media Contacts:
Brandon Kline
(317) 275-2057
bkline(at)bohlsengroup(dot)com
Andy Wilson
(317) 602-7137
awilson(at)bohlsengroup(dot)com