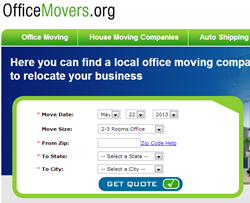 Choosing the Right Moving Method for You.
Facing an impending move can be an overwhelming and stressful time in anyone's life.
(PRWEB) May 17, 2013
Office Movers, a company specializing in moving offices, with a database of pre-screened moving companies, announces a database of truck rental companies with a variety of options to meet any and all transportation needs.
Moving vans are ideal moving resources as a mode of transporting goods from one location to another, especially if someone is planning on packing and moving an office without the assistance of a moving company. Office Movers partnership of truck rental companies only includes vetted companies with a history of superior service and the insurance necessary to cover belongings during a move. OfficeMovers.org can assist with renting a truck that suits all short term moving needs.
About OfficeMovers.org
Office Movers is an experienced moving service company that has been in business for the past 20 years. Office Movers provides moving and storage services for corporate clients; servicing local, interstate, and international moves. Additionally they provide disposal, distribution and crane services. Office Movers has containers for overseas shipping, and weatherproof steel containers for storage. Vehicle shipment and storage are also available.