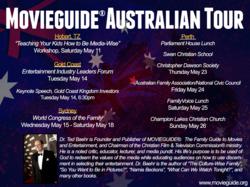 "The mass media creates the culture that shapes the hearts, minds, and moral characters of future generations of children and grandchildren." -Dr. Baehr
Sydney, Australia (PRWEB) May 09, 2013
Family and child advocate Dr. Ted Baehr, CEO and founder of the Christian Film & Television Commission (CFTVC), is going "Down Under" to Australia this week to preach his message of Biblical Media Wisdom to families, filmmakers, business and civic leaders, and Christian believers.
The trip will include stopovers in Hobart, Tasmania; Gold Coast, Australia; Perth, Australia; and Sydney, where he will speak multiple times to the World Congress of Families VII, an international pro-family group.
The tour begins in Hobart, Tasmania on Saturday, where Dr. Baehr will speak to parents and families about "Teaching Your Kids How To Be Media Wise." He will also speak to some producers and other filmmakers, including leading filmmakers at a CGI animation studio.
From there, Dr. Baehr travels to Gold Coast in Queensland, Australia, where he will meet with and speak to entertainment industry leaders and business leaders.
Among the topics he and CFTVC COO Robert Baehr will address in Gold Coast will be the mass media's effects on children, principles of screenwriting and filmmaking, film distribution, using social media platforms, making moral and spiritually uplifting movies and television programs, and how to get involved in influencing the mass media or working in it.
In Sydney, beginning May 15, Dr. Baehr will moderate two panels and give two keynote speeches at the World Congress of Families VII.
One of the media panels includes a special advance screening May 17 of the movie RETURN TO THE HIDING PLACE, a movie about a Christian Resistance fighter opposing Hitler's National Socialists in the Netherlands during World War II, slated for release later this year.
Two actresses from the movie, Mimi Sagadin and Rachel Spencer Hewitt, will appear on the panel, as will the movie's Producer/Director Peter Spencer.
Dr. Baehr will also be speaking on "A Culture Worth Preserving: The Importance of Storytelling," "Blockbuster Stories that Build Character and Restore Family Values," and "The Culture-Wise Family."
Robby Baehr will speak twice at the conference, once on "Reaching the Next generation with the Pro-Family Message" and once on "Social Media: Friend or Foe?"
"Parents and traditional family values are under attack by some in the mass media, and even many government leaders and so-called educators," Dr. Baehr said. "The World Congress of Families is a strong defender of the family values that are essential to raising healthy children in a fallen world full of toxic influences.
"The mass media creates the culture that shapes the hearts, minds, and moral characters of future generations of children and grandchildren."
In Perth, Dr. Baehr will speak at the Swan Christian School, at the Australian Family Association, and at the National Civic Council, as well as several other venues, including preaching at a large church. He will also present a paper at the Christopher Dawson Society on "Understanding and Redeeming the Media." Christopher Dawson was the author of "Religion and the Rise of Western Culture" and other seminal history books.
USA Today once described Dr. Baehr as "God's Advocate in Hollywood," but he describes his role as a missionary who tries to encourage godly, family-friendly movies and entertainment with inspiring messages for a world hungry for spiritual, biblical truths.
Dr. Baehr is chairman of the Christian Film & Television Commission® (CFTVC) ministry and director of its family guide to movies and entertainment, Movieguide® (http://www.movieguide.org). CFTVC and Movieguide® are an international non-profit ministry, advocacy group, and watchdog dedicated to "redeeming the values of the entertainment industry by influencing industry executives and by informing and equipping the public about the influence of the entertainment media."
For more information, visit http://www.movieguide.org or call 1-888-248-6689.