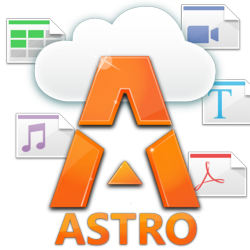 We are honored to have been selected from among so many great technology companies to participate in this prestigious Google event
Marietta, GA (PRWEB) May 13, 2013
Metago, the leading provider of content management and federated search across mobile devices, cloud services, PC's and Mac's, today announced it has been selected by Google to participate in the esteemed Developer Sandbox at Google I/O from May 15th to May 17th.
ASTRO File Manager is an easy to use, one-stop application to manage and search distributed content, regardless of whether it is on your mobile device, a cloud, PC's or on a Mac.
"We are honored to have been selected from among so many great technology companies to participate in this prestigious Google event," said Kevin Payne, chief executive officer at Metago. "Google I/O brings together innovative companies and creative technology and people who desire to create an amazing Android user experience. We will showcase ASTRO's powerful new mobile file sharing and federated search technology in the Sandbox."
Metago delivers global content management, federated search, file sharing and other utilities for Android. For more information please visit http://www.metago.net or follow us at http://www.twitter.com/metagoinc or http://www.facebook.com/ASTROfilemanager.
About Metago
Metago is a leading mobile software firm headquartered in the Atlanta, Georgia metro area. The Company sells Digital Lifestyle Management™ applications for managing and searching content and files distributed across mobile devices, cloud services, PC's and Mac's. For more information on Metago, visit us online at http://www.metago.net.