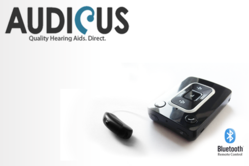 Audicus has saved consumers more than $1.5 million in hearing aid costs.
New York, NY (PRWEB) May 14, 2013
Audicus (http://www.audicus.com), which is changing the hearing aid industry by offering high-tech hearing aids online, has now introduced a new Bluetooth hearing device. Since its launch last July, Audicus has saved consumers more than $1.5 million in hearing aid costs.
Nearly 40 million people in the United States have hearing loss, but only one in four wears a hearing aid. Hearing aids are traditionally sold at audiology clinics and, at $4,000-$6,000 per pair, are too expensive for many. In addition to being costly, hearing aids come with the stigma of handicap or old age.
Audicus is changing this. It offers its designer hearing aids online and eliminates the overhead costs of operating a clinic, which results in savings of thousands of dollars per pair. Customers can browse hearing aids online, upload their hearing test results and receive their products in the mail. In addition, Audicus offers highly discreet hearing aids, with modern features such as Bluetooth.
Its new Bluetooth hearing aid, the aBlue, connects wirelessly with cell phones, iPads and TVs, and auto-adapts itself depending on the listening environment. It has won numerous design awards and is far removed from the stereotypical bulky, inadequate hearing aids of the past.
"Everyone should have access to high quality and affordable hearing aids," said Patrick Freuler, Audicus CEO. "There's no reason a hearing aid should cost more than an iPhone."
Audicus repositions hearing aids as accessible and slick consumer electronics products, rather than medical devices.
About Audicus
Audicus is a disruptive internet company that offers discreet designer hearing aids online, at a fraction of traditional retail costs. For media inquiries: allison(at)audicus(dot)com.