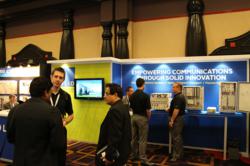 Sunnyvale, CA (PRWEB) May 09, 2013
SOLiD, a publicly-traded global communications solutions innovator, announced today that the Company is participating in this year's CTIA event at Sands Expo and Convention Center, Las Vegas, NV as an exhibitor and panel subject matter expert. SOLiD is showcasing its portfolio of Cell Backhaul and Distributed Antenna System (DAS) solutions at Booth #3963 in the Mobile Backhaul Pavilion. Additionally, Saeed Anwar, CTO at SOLiD USA, is presenting on the LTE capacity crunch and providing guidance to various backhaul technologies, products, and techniques the wireless market will deploy to address the problem.
Solutions Showcase
SOLiD will share customer deployment success stories and discuss solution business and technical benefits and features in Booth #3963:

INFINITY ACCESS™ - Fiber multiplexing solution increases capacity of existing fiber for cell backhaul and small cell deployments.
GameChanger™ - "Neutral Host" Wi-Fi Offload solution designed for high-traffic, high-capacity locations such as Stadiums and Subways to deliver each participating wireless operator with the equivalent of their own high-capacity Wi-Fi network with virtually unlimited backhaul bandwidth.
ALLIANCE™ – Industry-leading multi-operator, multi-service DAS enables capacity and coverage for cellular and public-safety services using just a single strand of fiber.
TITAN™ - 20W DAS Remote Unit for high-traffic, high-density locations with seamless integration with SOLiD single- and multi-operator DAS head ends.
Link Balancer Unit™ (LBU) - "DAS Tray" optimizes DAS signal power and clarity performance, and simplifies carrier head end deployment.
Panel
"Network Transport Strategies for Addressing the LTE & Mobile Internet Application Traffic Data Surge"
Topics:
LTE & Mobile Internet Application bandwidth & capacity trends & forecast
Mobile data offload approaches (enterprise, "hoteling" & core network levels) and use cases
Best practices for optimizing network reliability and interoperability
Emerging and next generation backhaul strategies
Backhaul Strategies for Small Cell Deployments
Date: 5/21/2013
Time: 11:00 AM–2:00 PM
Location: Sands Expo − Bellini 2104-2105
For a more information, please contact SOLiD.
About CTIA 2013
Presented by CTIA–The Wireless Association®, the proven authority leading the mobile movement since 1984, CTIA 2013 will continue to illuminate the future by showcasing the leaders, ideas and experiences transforming our dynamic industry. For more information on this event, visit: http://www.ctia2013.com/.
About SOLiD
SOLiD (http://www.solid.com) empowers communications through innovative Distributed Antenna System (DAS), Optical Network Transport and Passive Optical LAN (POL) solutions that ensure capacity and coverage for cellular and public-safety throughout buildings, campuses and venues, enable Fronthaul / Backhaul for Small Cell and WiFi Offload deployments, and deliver carrier-grade Fiber-to-the-Room (FTTR) network capacity and reliability to facilitate next-generation voice, data and video applications such as 4KTV. Learn more at the SOLiD website, read our blog and follow us on LinkedIn. For further information please email info(at)solid.com or call 888-409-9997.