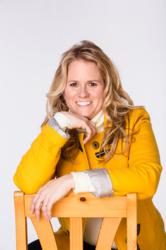 There is nothing better than witnessing the "aha" moments that happen for students.
Brockville, Ontario (PRWEB) May 09, 2013
Streamed live from Atlanta to the Centennial Road Church (3545 Centennial Road, Brockville, ONT) and hundreds of other locations around the world, Brockville Chick-fil-A Leadercast brings together some of the world's most influential thought leaders in business, creativity and leadership. The specialized Youth Track is designed for students in grades 10-12 and will take place during the lunch period with interactive learning activities based on the morning's events. Students will be supported and mentored as they assimilate and practice key skills among their peers.
Local resident, leadership, wellness and relationship expert Karen Bayles is a gold sponsor of the event and one of three leaders of the Youth Track. Having coached groups in the government, schools, and churches and at a personal level both in Canada and in the United States, Ms. Bayles will help to mentor and coach student attendees alongside Jason Jardine, (Winds of Change, Recreation Therapy and Leadership Development) and Jeremy Conway (Revolution Skateboarding & Fashion Owner & Youth Pastor).
Students can expect to be challenged, inspired and encouraged, introduced to tools that will be useful through school, at home and into the workplace. Ms. Bayles said, "It is very energizing to be a part of this event. It is wonderful to be challenged as a leader, to learn and grow. Working with youth and seeing them grow as individuals is so rewarding. There is nothing better than witnessing the 'aha' moments that happen for the students as they are introduced to new concepts and are given new tools for life."
Interest amongst students has already been incredibly positive. 17-year-old Nick Reid from St.Mary Catholic High School is one of hundreds who will take part in the day's seminars. He said," I attended Leadercast last year and really enjoyed it. I have used some of the things I learned at the last event in my own personal life, at work, school and in sports! I hope to get a better understanding of how to communicate effectively with others. If you can communicate with others then you can gain their trust. And when you gain their trust you are able to effectively deal with their wants and needs."
One local Grade 12 Student attended a similar youth leadership event led by Ms. Bayles in his school's Linkcrew Leadership Class earlier this year. He said, "I want to learn about leadership to understand how I can successfully lead a group, while still ensuring that everyone gets an equal opportunity for participation in activities and/or decision making. For most of my life I haven't been much of a leader. I have generally taken on the role of following directions, and doing what I'm told. I guess for the most part I still am more prone to do that, which isn't necessarily bad, but I feel that I have valuable insights on different topics and situations, and I want to learn how to speak out about those ideas, and lead others in that so it becomes a team effort. The Linkcrew session, led by Ms. Bayles, really inspired me to manage my time and tasks effectively. I've been since applying those principles to my everyday life, and it has made a considerable impact on how I think and do things."
Maria is a 17-year-old local student who will also be attending the YouthTrack at Brockville Leadercast. She hopes to learn how to be a good leader saying, "I want to learn how to be a leader that people look up to, a positive role model for others and someone that understands those that he/ she is leading and is willing to listen to other people's opinions. I would say that it is relatively hard for a teen to find good leadership training and mentoring in our community which is why I am excited to attend Leadercast this year. I would definitely like to see more of it! The more teen leaders in the community, the better."
The Brockville Leadercast and YouthTrack starts at 8.30am on Friday May 10 2013 at Centennial Road Church, 3545 Centennial Road, Brockville, ONT. Student tickets are priced at $45, non students $75. The confirmed speaker lineup includes John Maxwell, Jack Welsh, David Allan, Andy Stanley, Dr. Henry Cloud, Mike Krzyzewski, Sanya Richards-Ross, LCDR Rorke Denver and an exclusive Simply Lead video interview by John Maxwell with Condoleezza Rice at Stanford University.
Students will need to register through Karen Welch at kwelch(at)ripnet(dot)com and indicate they are a student if they wish to attend at the discounted rate. Please note that student tickets are not available at the door on the day so please register by Thursday May 09, 2013.
To find out more, visit http://www.chick-fil-aleadercast.com/location/brockville or email kwelch(at)ripnet(dot)com