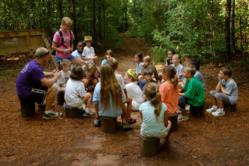 "Camp is different from childcare," affirms Liz Godwin, YMCA Association Director of Youth Programs. "There's a real purpose and benefit to camping. Countless adults attest that their camp experience had a positive impact on who they are today."
Charlotte, NC (PRWEB) May 10, 2013
For generations, the YMCA of Greater Charlotte has built a legacy of providing kids and teens with enriching, safe and fun summer camp experiences with caring staff and volunteers who model positive values that build kids' character.
Operating for 138 years, the Y is a leading nonprofit that has built a legacy of providing award-winning camping programs as part of their commitment to nurture youth potential. Last year the Y hosted more than 3,300 children in resident camp and nearly 11,000 in day camp at Y branches across the Greater Charlotte region.
The Y's youth development experts emphasize that the camp experience has a much deeper significance than filling idle summer months. "Camp is different from childcare," affirms YMCA Association Director of Youth Programs Liz Godwin. "There's a real purpose and benefit to camping. Countless adults attest that their camp experience had a positive impact on who they are today."
Godwin provides five reasons why kids should attend summer camp:

Healthy Physical Activity & Adventure
With more free time in summer, ensuring that kids practice healthy habits could be challenging. According to the YMCA's Family Health Snapshot, a survey that gauges children's activity levels during the school year, nearly 50 percent of U.S. parents say technological distractions, such as television, cell phones or video games make it difficult to maintain a healthy lifestyle for their children. Camp empowers parents to help their kids unplug from technology, keeping their minds and bodies active in a safe and fun environment.
Confidence, Leadership & Life Skills that Increase Academic Potential
Among the many psychological benefits, camp provides kids with a hands-on learning experience in a safe environment, free from bullying and peer pressure, which seem so prevalent in today's society. Leading experts in childhood development reinforce the importance of the camp experience. In his book, "Homesick and Happy: How Time Away from Parents Can Help a Child Grow," author and featured Huffington Post blogger, Michael Thompson, Ph.D. concluded that the camp experience inspires confidence and leadership skills in youth. As a part of his research, Dr. Thompson asked college admissions officers about the camp experience as it relates to academic potential. University advisors responded: "Campers are more likely to succeed in college because they have had successful experiences away from home." Studies show that campers develop healthy coping skills as they assimilate to the camp environment and engage in fun activities with other kids. In an article published by Psychology Today, Michael Ungar, Ph.D, asserts: "Sending children to a residential, or day camp, builds resilience."
In the modern world, particularly in urban areas, opportunities for kids to commune with nature are scarce. Today's youth are often immersed in man-made environments, rife with concrete structures and tech-toys. While technology is important to our lives, kids need to have a fundamental understanding of nature, as suggested in an article about the benefits of summer camp featured on PBSKids.org. Y resident camps help kids develop an appreciation for the outdoors as they participate in enriching activities surrounded by mountains, lakes and woods. Environmental education classes are available to encourage kids to be civic-minded and environmentally conscious.
Friendships and Positive Role Models
Among the most enduring benefits of the camp experience are the relationships that kids build with friends and counselors. Now a successful attorney based in Virginia, Grey Littlewood spent over 14 years involved in camp at the YMCA of Greater Charlotte. "Without a doubt, the YMCA camp program played a big part in my early development," says Littlewood. "I was able to cultivate amazing relationships with other teens and counselors. Those relationships are still strong today." As a result of the positive role modeling, fellowship and charitable values demonstrated during his Y camp experience, Littlewood has become a community volunteer to help other children. "It's important for me to give back to the community."
Memories that last a lifetime
Summer camp is an unforgettable experience that will give each camper memories (and campfire stories) that will last a lifetime. Youth return to school with plenty of camp stories to share!
The Y offers day camp programs at 13 locations and two resident camps including YMCA Camp Harrison at Herring Ridge and YMCA Camp Thunderbird. To ensure that all kids and teens have the chance to experience camp, financial assistance is available for eligible participants.
Due to demand, parents are encouraged to register their children early for YMCA summer camp programs. For more information or to register contact:
YMCA Camp Harrison at Herring Ridge: Email campharrison(at)ymcacharlotte(dot)org or call (800) 514-1417
YMCA Camp Thunderbird: Call (800) 732-3855 or visit campthunderbird.org
YMCA Day Camp Programs are provided by 13 locations throughout Greater Charlotte. Visit ymcacharlotte.org for information.
About the YMCA of Greater Charlotte
The Y is one of the nation's leading nonprofits strengthening communities through youth development, healthy living and social responsibility. The YMCA of Greater Charlotte, comprised of 19 Y branches and two resident camps, engages approximately 292,000 men, women and children – regardless of age, income or background – to nurture the potential of children and teens, improve the nation's health and well-being, and provide opportunities to give back and support neighbors. Deeply rooted in the community for 138 years, the YMCA of Greater Charlotte has the long-standing relationships and physical presence not just to promise, but to deliver, lasting personal and social change. ymcacharlotte.org.