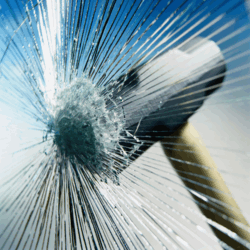 At this point in time, there's no guilt about pursuing business that can possibly save lives or prevent injuries.
(PRWEB) May 14, 2013
Global Security Experts Founder Jordan Frankel, also known as the Security Sensei, was highlighted in an April 28th Boston Herald article titled "Sales Pitches Use Bombing as Hook."
The article discussed the morality of using an occasion like the Boston Marathon bombings as a sales hook to promote products or services. Some criticize businesses for attempting to profit on the back of a tragedy, but Frankel disagrees.
The Security Sensei said some of the injuries caused by flying glass during the Boston bombing could have been prevented with BlastGARD, a clear protective film that holds together deadly razor sharp glass fragments during an explosion.
"For decades, terrorists and home grown extremist groups have known that crude explosive devices and unprotected glass form a lethal combination," Frankel said.
In the case of a similar explosion in the future, BlastGARD fragment retention film can prevent flying pieces of glass from becoming fatal weapons. The fragment retention film works by absorbing shock waves and dispersing the impact, keeping glass intact.
BlastGARD also has instant benefits. For instance, the film filters up to 98 percent of harmful Ultraviolet radiation, and a tinted version of BlastGARD can reduce glare and heat infiltration by up to 70 percent.
BlastGARD was originally created for use by the United States Military, but in light of the Boston Marathon bombing, Global Security Experts is now offering BlastGARD to the private sector. Not only can BlastGARD benefit private sector business in the case of an explosion, but it can also defend against burglaries and hurricanes.
As stated in the Boston Herald article, Frankel said he has zero qualms about his company's push for BlastGARD immediately following the Boston bombing.
"After 9/11, that was a very big quandary for myself and our company," Frankel said. "At this point in time, there's no guilt about pursuing business that can possibly save lives or prevent injuries."
Frankel, the Security Sensei, is an expert in the field of blast protection and glass mitigation and is available for interviews with the media. Frankel is committed to making security an affordable reality for all consumers, and he also offers his services to homeowners and business owners who need help with security inspections, training seminars, and certified "safe rooms."
About Global Security Experts:
For nearly two decades, the professionals at Global Security Experts have been providing affordable, customized home security solutions for the everyday citizen. The company offers the latest state-of-the-art security devices and physical deterrents to home invasion, as well as on-site training to families, businesses and individuals worldwide. Owner Jordan Frankel, known as the Security Sensei, is a highly-trusted authority in the field of residential security. To find out what Global Security Experts can do for you, visit http://www.globalsecurityexperts.com.
Contact Information:
Jordan Frankel
Global Security Experts/ShatterGARD
globalsecurityexperts.com
(888) 306-7998 x 14