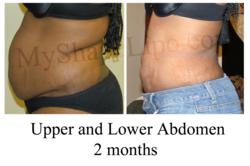 I'm amazed at how quickly our patients get back to their normal lives
Las Vegas, NV (PRWEB) May 13, 2013
Liposuction in the past meant long painful recoveries that kept patients out of work for up to two weeks in many cases. This meant significant costs from lost wages in addition to the procedure costs. Fortunately, the liposuction procedure has made major advancements and is now considered minimally invasive.
MyShape Lipo of Las Vegas, NV has perfected the art of minimally invasive liposuction and reduced the liposuction recovery to just 3 days. A survey of 436 MyShape Lipo patients has revealed some amazing results. Most notably, 84.3% of their patients are able to return to work within three days following their procedure. Perhaps even more impressive, 41.2% of patients are able to return to work the next day.
This means that there is a significant savings since the patient does not have to be off of work for an extended period of time. Most people don't consider the cost of lost wages when deciding to have a procedure, but they should. Depending on the income, a shorter recovery could save a substantial amount.
Statistics also showed that by day three following a liposuction procedure, 54.7% of patients rate their pain level at mild and do not require any pain medication. This type of information has quickly alleviating patient concerns of pain following liposuction procedures.
87.1% of patients report that they are back to normal activities by two weeks following their procedure. These activities include full gym exercises, jogging, and heavy lifting. The days of being laid up in bed after liposuction are a thing of the past for the patients at MyShape Lipo.
"I'm amazed at how quickly our patients get back to their normal lives," says Trevor Schmidt PA-C, the liposuction specialist at MyShape Lipo. "It's flattering to hear the amazing stories that our patients experience."
There are many reasons for the reduced healing time, but most notably are the advances in the "Tumescent Liposuction Technique." This is the use of large amounts or fluid consisting of saline (salt water), lidocaine (numbing medication) and epinephrine (medication that constricts blood vessels to reduce bleeding.) In addition, instrumentation has gotten smaller and is now considered minimally invasive. Surgeon technique has also improved significantly to reduce the amount of trauma to the patient's body. With the experience of over 15,000 liposuction procedures, MyShape Lipo has achieved what was once thought to be impossible.
MyShape Lipo is a specialty liposuction clinic located in Las Vegas, NV and attracts patients from around the world for their experience of over 15,000 procedures and affordable prices. For a complimentary consultation via the phone or in person call 702-818-5476.