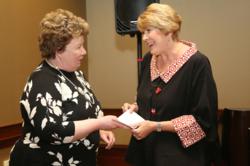 This scholarship signals my seriousness about healthcare quality management and will allow me to further my education and certification in ISO 9001 auditing.
Milwaukee, Wis. (PRWEB) May 09, 2013
The Healthcare Division of ASQ has awarded a $2,000 Nightingale Scholarship to Colleen O'Brien from Green Bay, Wis. for demonstrating an outstanding commitment to pursuing quality improvement in the healthcare field. The scholarship was awarded during ASQ's 2013 World Conference on Quality and Improvement, May 6-8, in Indianapolis, Ind.
O'Brien is a team leader in system nursing quality and safety at Bellin Health, Green Bay, which was just recognized by Consumer Reports as having the highest hospital safety score in the country. She is also a student in the Doctor of Nursing Practice program at the Marcella Niehoff School of Nursing, Loyola University Chicago, where her capstone project will be developing an audit and feedback program for nursing.
"This scholarship signals my seriousness about pursuing a career in healthcare quality management as it will allow me to further my education through training and certification in ISO 9001 auditing," said O'Brien.
While O'Brien's work experience has been in acute care, she is especially interested in handoffs of care to prevent readmissions as well as in the cost of quality, measurement, and the use of audit and feedback as an improvement strategy.
The ASQ scholarship is named in honor of Florence Nightingale, the founder of modern nursing who also pioneered healthcare statistics and promoted quality reforms in hygienic hospital care.
"Ms. O'Brien is clearly committed to the development of a culture of safety and healthcare quality. Through her work at Bellin Health, she leads by example to mitigate healthcare errors and enhance patient safety," said Grace Paranzino, co-chair of the ASQ Healthcare Division Nightingale scholarship committee. "We are excited to present this scholarship to Ms. O'Brien as it is our belief that she will serve as a future healthcare quality leader."
For more information and future scholarship eligibility requirements, please visit
http://asq.org/health/about/awards-health.html
About ASQ
ASQ is a global community of people dedicated to quality who share the ideas and tools that make our world work better. With millions of individual and organizational members of the community in 150 countries, ASQ has the reputation and reach to bring together the diverse quality champions who are transforming the world's corporations, organizations and communities to meet tomorrow's critical challenges. ASQ is headquartered in Milwaukee, Wis., with national service centers in China, India and Mexico. Learn more about ASQ's members, mission, technologies and training at http://www.asq.org.