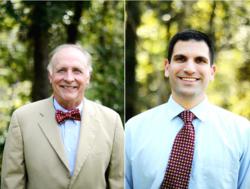 The stage is set for a groundbreaking new line of services and I'm happy to have been a part of it all.
(PRWEB) May 09, 2013
PATLive's President and CEO, Victor D'Aurio, has announced his resignation to pursue a new career path with a higher purpose at a local non-profit organization, Live the Life. Founder and Chairman, Glen Davidson, is coming back from retirement to reassume his previously held role as the company's CEO. With Victor's decision to pursue his life's passion, it is only natural Glen return as our leader. Glen has never been far and was still very much involved in the direction and vision for the organization.
"All of us here at PATLive are very appreciative for all Victor has done during his 13 year tenure. He leaves behind an impressive legacy, one which we intend to continue," Davidson reflects about the leadership change. "As PATLive continues to grow, we will strengthen the bonds Victor fostered by putting our customers and their feedback first."
As CEO, D'Aurio was responsible for the company's sales and operations, including end-to-end management of PATLive's product development, sales activities, service and support departments. He played a key role in the migration of the company's outdated telephony hardware infrastructure to an open source VOiP platform which allows for a more robust service offering and decreased costs. Under his leadership, the company grew dramatically and now employs 37% more staff members.
"As I near the end of my 13th year at PATLive, I am incredibly proud of the team and what we have accomplished," D'Aurio said of his departure. "While I am being called down a new path in life and will be leaving the company, I am excited about the groundwork we've laid that will allow for an exciting future at PATLive. The stage is set for a groundbreaking new line of services and I'm happy to have been a part of it all."
Plans previously outlined for the near future of the company remain the same. These plans include bringing on a second internet provider for added reliability, starting a second technology site for geographic redundancy, developing a completely new service offering, and implementing a robust community-based feedback hub which will act as a forum, help desk and problem reporting portal.
"We wish Victor the best of luck in his new role and look forward to watching his growth outside of PATLive. With the all of his hard work and dedication, PATLive is positioned for an exciting next few years with Glen back at the helm."
About PATLive
PATLive, headquartered in Tallahassee, FL, is a provider of hosted phone numbers, voicemail, auto-attendants, Internet fax accounts, and live telephone answering services. PATLive's services are easily configured to meet the needs of any business. Automated systems deliver the latest technology in call routing, tracking, and reporting while live receptionist services answer 90% of calls within 20 seconds. PATLive's customer care representatives are available 24-hours a day. More information is available at http://www.patlive.com.
Editors Note: The correct usage of the PATLive name combines upper and lower case as shown.
PATLive is a registered trademark of ATG Technologies, Inc. Any other trademarks mentioned are the property of their respective owners.
PATLive contact:
Nikki Lee
Marketing Manager
marketing (at) patlive (dot) com