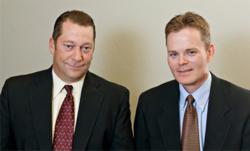 New York, NY (PRWEB) May 13, 2013
Smith & Cox, LLC was awarded the "Best of the Best" designation for excellence by Follow Media Consulting, Inc. in the category of Financial Advisor Tucson. This award signifies the continued commitment and dedication of the area's best in investing and financial planning / advisory services.
Smith & Cox, LLC is an Independent Registered Investment Advisory Firm serving Southern Arizona's Midwestern Retirees. They have developed their business by reaching out, nurturing and maintaining close, trusting relationships with each of their clients.
Smith & Cox's mission and philosophy is to grow, protect and defend clients' retirement. Their unique and proactive approach through education allows their clients to fully understand their investment options and clearly make smart, educated decisions. Smith & Cox's primary focus is to allow their clients to have peace of mind during their golden years, understanding their roadmap which will allow them to achieve their retirement goals.
Smith & Cox understands how important it is for clients to be able to trust their advisor particularly in the wake of recent, highly publicized corporate failures and investment management misdeeds. Regardless of the direction the stock market and interest rates take in the future, it's important to have a trusted advisor a client can count on to give them the news straight and look after their best interests, and those trusted advisors are Andy Smith and Chris Cox.
Andy Smith and Chris Cox have over 34 years of combined experience in the financial services industry. A full service and comprehensive firm, they are aligned with some of Southern Arizona's trusted professionals who understand the responsibility of expert advice. Smith & Cox utilize a coaching role in all areas of retirement. Investments, estate planning, tax planning, entitlements and IRA planning are areas where Smith & Cox specialize.
You can give Smith and Cox a call today at (520) 433-4490 and get to know their services or you can also visit their website at http://www.smithandcoxllc.com/ and schedule a time to discuss your retirement future.
About Follow Media Consulting, Inc.
Named one of the best SEO companies by Jonas Marketing, Follow Media Consulting, Inc. is a rapidly growing worldwide firm of SEO, Social Media, and Mobile Marketing Professionals. Follow Media Consulting, Inc. headquarters is located in Richmond, VA. However, our professional team is networked across the world, with regional offices across the United States, in the United Kingdom, Canada, Australia, France, South Africa, the Philippines, and India.