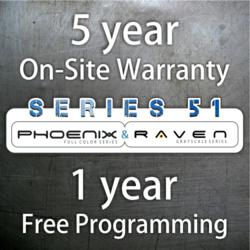 "This product series provides what the industry has been looking for." said Paul Martin, Director of Marketing for Vantage LED
Corona, CA (PRWEB) May 14, 2013
US Manufacturer Vantage LED has been in business for over 10 years pushing and leading the LED industry in product innovation and revolutionary software solutions. They believe the market is being overwhelmed by overseas manufacturers; therefore business owners looking for LED displays are becoming more cautious because of poor quality, no support, and subpar software. This apprehension is slowly scarring the industry. Vantage LED has solved this problem with a new product offering called SERIES 51. Available on their Phoenix™ Full Color and Raven™ Grayscale LED Display Series, SERIES 51 comes with a 5 yr parts and on-site service warranty plus 1 yr free programming provided by SM Infinity, a web-based content creation service.
"This product series provides what the industry has been looking for." said Paul Martin, Director of Marketing for Vantage LED, "A manufacturer that is not only willing to truly stand behind their product with a comprehensive bonded warranty, but goes one step further to ensure the sign content is dynamic and professional to make the business owner look good, and controllable from any internet-connected platform."
Vantage LED has identified and addressed three of the industry's main concerns: Warranty & Support, Hardware Quality, and Software Effectiveness.
WARRANTY & SUPPORT
Warranty and support are the number one concerns for business owners because LED displays are literally electronics in the field that have to endure all kinds of weather. Since it's directly affecting the image of the business, a failure can not only tarnish the image but result in loss of advertising and affect the bottom line. Along with a 5yr parts and on-site service warranty, Vantage LED has added further peace of mind with a proactive support solution. Their LED displays "check in" with Vantage LED on a regular basis with a diagnostic report via the Internet. If something appears to be failing, they will send someone on-site immediately for a seamless repair eliminating any downtime.
HARDWARE QUALITY
Vantage LED's cabinets are built entirely of aluminum with a resilient scratch resistant Dragon Skin™ High Performance Coating that does not fade and adjusts with the temperature to prevent cracking. They house the Darwin™ Solid State Control Unit which means no moving parts, like spinning hard drives, all encased in an industrial heat sink box. Power supplies are upgraded to include a conformal coating to combat any oxidation or condensation increasing the life of operation.
SOFTWARE EFFECTIVENESS
The LED display may perform beautifully and never fail, but if the content is poorly designed, the display will look bad and can have a negative effect on the business, the dealer who sold the display, and the manufacturer. Vantage LED has eliminated this concern with their new web-based solution: SM Infinity™. The business owner will reap the benefits of 1 yr free programming again offering peace of mind regarding their purchase. The core of SM Infinity™ is an online service where the business owner can simply request tailored custom content specifically for their LED display so it is dynamic and effective. They can focus on their business and Vantage LED can focus on making their LED display look incredible. Other features include PC, Mac and mobile device accessibility, voice control content requests, and conditional smart scheduling, where the LED display will trigger messages upon certain conditions; If it's cold outside, the display will automatically advertise jackets for sale. Too hot? It will advertise cold drinks inside.
Vantage LED continues to be the thought leader in the digital signage industry addressing and eliminating any concerns business owners or sign companies have when purchasing a LED display. SERIES 51 offers great value and great benefits. Vantage LED is truly excited about this industry and what it has to offer their loyal and new dealer partners as well as future LED sign owners everywhere. They invite you to visit their facilities in beautiful Corona, CA. Never An Ordinary Experience.