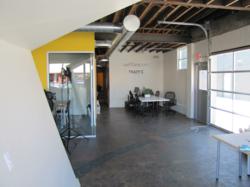 I think Royal Oak has a lot to offer for start-ups and can't wait to meet more.
Royal Oak, MI (PRWEB) May 09, 2013
As the weather heats up in Metro Detroit, small businesses, start-ups, and entrepreneurs will gather in Downtown Royal Oak to network and socialize. This networking event, called Bootstrapped, will be held at the end of May and is open to all entrepreneurial individuals in the Southeast Michigan region. Event host Venture Park is a new tech incubator that aims to bring these individuals and small companies together under two roofs—one that houses co-host and sponsor Traffic Digital Agency and its affiliate companies, and the other housing all other interested parties.
Aside from a month off in April, Venture Park has thrown its Bootrapped event at the end of every month since last December. Hundreds of guests have been in attendance, representing freelancers, start-ups, established businesses, and other business incubators.
Graphic and web designer Laura Eagin, who has attended multiple events, says, "It is a nice place to run into local creative and tech entrepreneurs, and I appreciate that it's an open event. One of the best ways to find out about new businesses in the area is to meet their team members in person. I think Royal Oak has a lot to offer for start-ups and can't wait to meet more."
Bootstrapped will be held on Wednesday, May 29 at 7pm and catered by local restaurants Oak City Grille and 212. In attendance as a guest speaker will be David Farbman, the Founder and Chairman of Outdoor Hub and prolific public speaker.
About Venture Park
Venture Park is an innovative tech incubator located in Royal Oak. Made up of Southeast Michigan's finest entrepreneurs, start-ups, and technologists, Venture Park aims to foster Detroit's small business scene and build a close-knit community of professionals.
The office features collaborative work space, private offices, shared amenities, conference room, and coming soon, an additional 13,000 square feet of office space including but not limited to: master conference room, 40-foot bar, keg on tap, and more.
About Traffic Digital Agency
Traffic Digital Agency is a full service digital marketing agency that started in the summer of 2012 in Royal Oak. Started by a University of Michigan-Dearborn professor with over 15 years of experience in digital marketing and a recent UM-Dearborn graduate with two start-ups under his belt, Traffic boasts expertise in SEO, PPC, Social Media, and Web Development Services.
Recently, due to client growth, Traffic has expanded its service offerings to include video production, creating viral marketing through video content, animation, production, editing, and promotion with its video production team, Rad by Traffic.