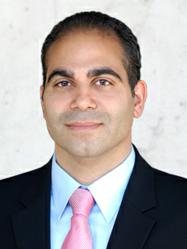 It is truly a pleasure to have Dr. Kamrava join our staff as an investor.
Beverly Hills, CA (PRWEB) May 10, 2013
Board-certified colorectal surgeon Dr. Allen Kamrava was recently welcomed to La Peer Health Systems in Los Angeles, as a new investor and physician. Dr. Kamrava will join the Colorectal Surgery Department. As a physician-owned surgical facility, La Peer is owned and operated by over 40 physician investors and includes 5 managing directors.
As a valuable addition to the La Peer team of doctors, Dr. Kakmrava will join colorectal and general surgeons Eiman Firoozmand, MD, Liza M. Capiendo, MD, Stephen Yoo, MD and Gary H. Hoffman, MD – a team of highly trained and respected surgeons in the Los Angeles and Beverly Hills area.
"It is a unique business structure in which patients benefit from the fact that our surgeons not only work at the surgical center but are also personally invested in the business," said Dr. Kamrava. "This means that we must also take a special interest in the daily operations, patient care, and the overall level of service offered throughout the surgery center."
As a multi-million dollar facility, La Peer is staffed with highly renowned surgeons known for the use of advanced technology and minimally invasive surgical techniques. These Los Angeles doctors come from some of the best medical schools in the nation and are also expertly trained in their fields. Surgeons span over 16 different specialties, ensuring state-of-the-art and comprehensive surgical care.
"It is truly a pleasure to have Dr. Kamrava join our staff as an investor," said Dr. Firoozmand. "In addition to his exemplary work as a surgeon, his background in business is a high-demand skill set and a tremendous asset to our surgical center."
Allen Kamrava, MD is a board-certified colorectal surgeon that was recently named Top Colorectal Surgeon in the U.S. by Healthtap.com. His clinical research interests include the care of patients with inflammatory bowel disease, advanced colorectal cancers, and complex anal diseases. He is also developing methods for improving healthcare workflows and efficiencies. In addition to La Peer Health Systems, Dr. Kamrava also practices colorectal and general surgery for Los Angeles Colon and Rectal Surgical Associates, Inc.
Dr. Kamrava earned a dual graduate degree in medicine and business administration at Temple University's School of Medicine, and The Fox School of Business. He then completed his General Surgical residency at Kaiser Permanente Hospital in Los Angeles and his fellowship in Colon and Rectal Surgery at the University of Pennsylvania. Through his education, Dr. Kamrava learned the advanced skills needed to treat complex colon and rectal diseases. He simultaneously received certification in advanced laparoscopic and robotic surgical techniques.
La Peer Health Systems is an outpatient surgery center in Beverly Hills, founded by doctors and focused on providing excellent patient care alongside the most cutting-edge medical treatments available. With 50 world-renowned physicians in 16 specialties, comprehensive medical treatment is offered that takes patients from consultation to diagnosis, treatment, surgery, and ultimately aftercare. Unlike large hospitals, La Peer's unique structure offers extremely personal care in a safe and controlled environment.
To learn more about La Peer Health Systems, visit http://www.lapeerhealth.com.