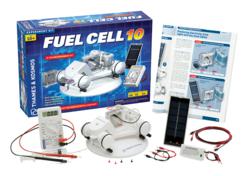 With this kit, you can build a model car that actually runs on water!
(PRWEB) May 08, 2013
A 2009 study found that the United States ranked 25th among 34 countries in math and science.. This matter weighs on the minds of tech innovators across Silicon Valley and research facilities nationwide.
Experts are calling for a renewal of hands-on science in the classroom. Even new science focused summer camps are popping up, including a hacker camp. Award winning Thames and Kosmos is taking strides to to take the fun of science to a new level and and spark the next generation of innovators.
With the newly redesigned Fuel Cell 10 science kit, kids can build their very own model car that runs on water and the sun.
First, use solar energy to separate water into hydrogen and oxygen. Then, plug in the motor and the fuel cell uses these gases to produce electricity that moves the vehicle across the floor. The only by-product is clean water.
There are more than a dozen experiments and demonstrations about fuel cells, solar cells, and electrolysis. Hmmm, I wonder who's going to win the science fair this year?
The kit comes with a full-color, 64-page manual that is easy to understand this makes it easy for kids to use on their own or for teachers in a classroom or home school setting.