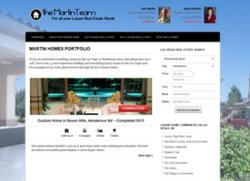 Las Vegas, NV (PRWEB) May 09, 2013
Novada Media LLC has teamed up with husband and wife team, Jim and Maria Martin, to launch VegasCustomHomeTeam.com, a new website focused on the custom home market in Las Vegas. Visitors interested in building a custom home in Las Vegas and Henderson, NV can browse a portfolio of custom homes built by Martin Homes Inc. The site also allows visitors to browse up to date listings for several luxury home communities in the Las Vegas Valley.
Jim Martin is founder and president of Martin Homes, Inc. With a background in construction management and architectural engineering he has directed and managed the construction of over 100 custom homes in both Los Angeles and Las Vegas, including two custom homes for the 1998 and 2000 prestigious Street of Dreams tour of homes located in Seven Hills, Henderson, NV.
Maria Martin has over 25 years of experience in the luxury home market industry, with nearly 15 of those years in real estate sales. Her love for ageless style, culture, and design transmit to each of her clients. Maria created her real estate practice with the idea of offering her clients unsurpassed service and commitment. Together, with her husband, they create a perfect team to offer their clientele extraordinary quality, style, and exceptional service.
"The site is designed to provide a resource for anybody looking to build, buy or sell a custom home in Las Vegas" said Matt Ley, founder of Novada Media LLC. "I am excited to team up with Jim and Maria and help promote their services."
About Novada Media LLC: Novada Media is a web site solutions provider founded in 2007 with a focus on creating simple, effective, user friendly web sites.