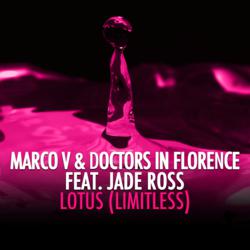 Teaneck, NJ (PRWEB) May 14, 2013
Marco V has long established himself as one of the most inventive, diverse and creative electronic music minds working today. To reflect this, he's made it inside DJ Magazine's Top 50 list for 7 consecutive years.
Now, for the first time on Radikal Records, Marco V teams up with Doctors In Florence and Jade Ross to revitalize "Lotus," one of Marco's fiercest releases in 2012. The complete single package will be released by Radikal Records in the US and in Canada, on iTunes, Beatport, Amazon and other digital streaming services May 14th. In addition, the tracks can be streamed for free or purchased directly from Radikal Records on their website http://radikal.com.
With the technical sorcery of the Italian progressive house heroes Doctors In Florence also behind the production, this is a combination that was destined to result in an explosive hit record. The Doctors have shaped a fearsome collective of house music professionals that together have proven their expertise with a string of devastating releases. Now combined with the experience and vast talents of Marco V, it's a recipe for success that will have any EDM enthusiast licking their lips.
Packed full of typically stadium-scale melodies and thunderous bass lines, "Lotus (Limitless)" has all of the characteristics we've come to expect from one of the world's leading producers.
In typical Marco V style, the release is an action crammed EDM masterwork that has now been super-sized with the addition of Jade Ross's beautiful vocal work. The production is pristine and Jade adds a striking layer of euphoria to the already rapturous instrumental. There's no shortage of big-room vocal tracks in 2013, but you would be hard pressed to find many that pack the combination of stunning vocal lines and rip-roaring bass hits with such dexterity. With a Darwin & Backwall remix reinforcing the package, you can be sure that this EP is an essential acquisition for the EDM enthusiast.
Every time Marco V returns with new music, his reputation grows ever more. Only a handful of acts have managed to hold strong at the pinnacle of Dance music for so long. When you talk about masters of the electronic music world, it would be rash to not mention this pioneer of the music we know and love. Always at the front of the ever-changing EDM landscape, Marco had called upon the expertise of these hugely gifted Italians and the product is nothing short of earth-shattering.
Track Listing
iTunes: "Lotus (Limitless)" feat. Jade Ross
01 Single Mix
02 Vocal Mix
03 Darwin & Backwall Remix
04 Simon From Deep Divas Remix
05 Alternative Mix
06 Lotus (Original Mix)
07 Lotus (Christopher Ank Remix)
Beatport: "Lotus (Limitless)" feat. Jade Ross
01 Vocal Mix
02 Darwin & Backwall Remix
03 Simon From Deep Divas Remix
04 Alternative Mix
Radikal Records offers artists national distribution through SONY/Red Distribution, electronic distribution through iTunes, eMusic, Amazon and all major downloading services, and other resources including production, artist development, product marketing and licensing opportunities. In recent years, Radikal has worked with many artists including: 2 Unlimited, N-Trance, Zombie Nation, ATB, Yello, Scooter, Schiller, Blank & Jones, Cosmic Gate, Sinead O'Connor, Voodoo & Serano, Apollo 440 and others. Visit http://radikal.com for more information.