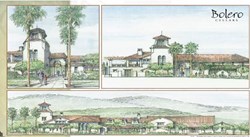 The EB-5 [funds] are really going to be the capital that builds the buildings themselves
Murrieta, CA (PRWEB) May 16, 2013
When the recession hit in 2008, the Rancon Group's plans for building Europa Village in Temecula's wine country were put on hold. The lack of bank financing led the developers to look into the EB-5 program as an alternate. After doing some research, they decided to create their own regional center and are using the EB-5 loan model to continue construction of the expansive project. Stephenson says, "The EB-5 [funds] are really going to be the capital that builds the buildings themselves."
While those building await construction, Europa Village's interim winery is open and fully operational. The Inn at Europa Village is also open, but the entire resort project, which will feature three distinctive European wineries, will take approximately five years to complete.
Currently, Rancon Regional Center is awaiting USCIS designation, which they expect to get in July. Jeff Comerchero heads up the regional center and Stephenson says he himself will become more involved once they get their regional center designation. He says, "Jeff and I are a great team. I'm sort of the visionary and he crosses all the t's and dots i's... he has a passion for doing that and really has made it his specific project…I'll be involved in some of the projects that the capital comes in to develop, which will be my expertise, but the EB-5 program; he's our local expert."
As one of the leading developers in the Inland Empire, the Rancon Group was founded in 1971 by Stephenson who saw, the Temecula/Murrieta region (which was previously called Rancho California) as a good place to invest. He left his job in the banking industry and started Rancon to buy, develop and syndicate property in Southwest Riverside County. "Here I am, 40 years later doing exactly the same thing having just as much fun," Stephenson says.
Stephenson stresses the importance of ethics and communication with investors. He says everyone at the Rancon Group understands they work for their investors, not themselves. He adds that his company has been successful because they've been doing the same thing in the same place for over 42 years. He knows the business inside out from hiring the right consultants to knowing government rules and regulations. His advice for investors is finding a project that is well located and says, "You buy people as much if not more as you buy things, so look for someone who's been doing it that has a good reputation and that has a track record for accomplishing what they say they are doing."
Europa Village will be Rancon Regional Center's first EB-5 offering. It is estimated to create over 1,000 jobs ranging from the wine makers to those in hospitality and retail sales. Stephenson believes the project is a good fit for what the government is trying to accomplish with the EB-5 program.