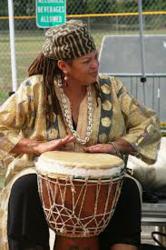 Rural African American culture in the Sandhills is rich with religion, music, dance and storytelling," says Ammie Jenkins, Executive Director of Sandhills Family Heritage Association
Spring Lake, NC (PRWEB) May 09, 2013
The Sandhills Sankofa Festival and the Art of Gospel, a family friendly event that celebrates rural African American cultural and historical heritage, will be held May 18th from 11 am - 7 pm at the Spring Lake Recreation Center.
The celebration includes performing arts, educational exhibits and food. Attendees will experience African American music from the time of slavery to the present, African dancing, drumming, storytelling and fabric art reminiscent of the continent of Africa. "Rural African American culture in the Sandhills is rich with religion, music, dance and storytelling," says Ammie Jenkins, Executive Director, Sandhills Family Heritage Association. "All will be highlighted at this year's event. Bring your folding chairs and stay the day."
Follow THIS LINK for information on the performers at the Sankofa Festival and the Art of Gospel.
The festival is a free event sponsored by the Sandhills Family Heritage Association with Spring Lake Recreation Department. Spring Lake Recreation Center is located at 245 Ruth Street in Spring Lake.
About the Fayetteville Area Convention & Visitors Bureau :
The Fayetteville Area Convention & Visitors Bureau is a private, not-for-profit organization responsible for positioning Fayetteville/Cumberland County as a destination for conventions, sporting events and individual travel. For additional information, visit http://www.visitfayettevillenc.com or call 1-800-255-8217. Cumberland County is America's first military sanctuary. Through the Army's Army and other volunteer groups, our citizens and businesses are dedicated to "watching over those who watch over us ©."