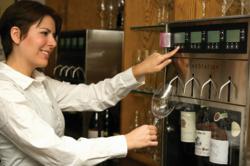 "We believe that wine-by-the-glass programs will continue to grow as consumers demand more variety, operators gain positive experiences, and wine preservation technology becomes widespread." Jayne Portnoy, VP Marketing and Brand Strategy, Napa Technology
Campbell, CA (PRWEB) May 10, 2013
According to Napa Technology's 2013 survey of wine industry professionals, women wine drinkers represent 30 to 50% of their wines-by-the-glass business, and most of them recognize women, across all age groups, as key customers for a robust wine business.
In a recent webinar, hosted by Napa Technology's Vice President, Marketing and Brand Strategy Jayne Portnoy, Deborah Brenner, founder and author of Women of the Vine, and Marian Jansen op de Haar, wine curator and principal of Vines 57 and best known for developing the 100 wines-by-the-glass program for Fleming's Prime Steakhouse, highlighted the purchasing power of women, their beverage preference for wine by the glass, and tactics for increasing on-premise sales to this lucrative demographic.
More than 130 registered operators, business owners, and members of the media joined the Napa Technology webinar, "Marketing Wines by the Glass to Women" to get a better understanding of how to harness their buying power.
According to both Brenner and Jansen op de Haar, women buy wine and drink wine for different reasons than men. Women shop with the final experience in mind: to commemorate a milestone, compliment a meal, to have fun with friends. Women tend to ignore (or place less weight on) wine scores and concentrate on personal experience or trusted advise from friends and family when making a wine selection. Women are interested in knowing more about the wine and they are willing to pay more for a premium glass of wine than men.
To make wine more approachable to women, offer them more information, from wine descriptions to pairing ideas. Encourage sampling and be forthcoming in offering tastes, as well as a variety of choices by the glass.
With about half the weekly meals eaten outside the home, women have more opportunities than ever to sample new wines. The average number of wine-by-the-glass options on menus today is 23 to 29, which addresses the fact that everyone appreciates finding a wine that they like. Having an equal balance of price points and global selections helps keep your female guests intrigued. Women also welcome tasting events and flights for learning and sharing, in the moment and virtually.
Women of all ages use social media channels to help educate and inform their choices. Recent Nielsen data estimated women account for two-thirds of the $18 trillion dollars of annual consumer spending and control 72% of household purchasing decisions. According to the Wine Market Council 57% of all wine consumed on premise is by women, with millennial women dominating the wine scene by well over 10%, as millennial men primarily choose beer.
At the end of the day, everybody wants to drink good wine at a comfortable price point. Napa Technology's 2013 survey revealed some wine-by-the-glass trends worth noting when marketing to women:
1. Think small. Operators offering half-glass options realized a 47% increase in total sales.
2. Guests choose wine by the glass for value, opportunity to taste more and new wines, and for individual taste differences.
3. Champagne and sparkling wines are moving up in popularity, as an everyday choice, by women and men.
A robust wines-by-the-glass program can be difficult to manage, and serving spoiled wine is bad for business. Preservation and dispensing systems help operators manage quality, which translates to customer satisfaction.
Wine preservation is not new technology. However, efficient and accurate dispensing is still relatively new. Napa Technology's patented Clean-Pour® Dispensing Head technology separates the WineStation from all other systems on the market, providing a tubeless solution that delivers lengthy preservation in and out of the system, to-the-ounce pouring accuracy, and eliminates costly maintenance.
Add zero build-out to the equation. The temperature controlled, portable WineStation can be installed in under an hour and eliminates costly, often disruptive, renovation. The Napa Technology WineStation supports the highest level of profitability and customer satisfaction from the very first pour.
Go to Marketing Wines by the Glass to Women to view or download the webinar.
About Napa Technology
Napa Technology, LLC is a designer and manufacturer of Intelligent Dispensing Solutions for wine that ensure optimum freshness with each pour. The company's breakthrough product, WineStation®, drives revenue and maximizes the profitability of each bottle. Since 2005, WineStation systems have been adopted by foodservice and retail operators as a new way to serve, preserve and capitalize on consumer interest in and demand for the good quality wines. To learn more, visit http://www.napatechnology.com.