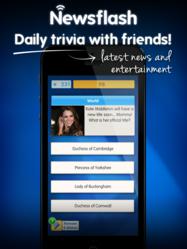 Our game covers the latest current events: from Lindsay Lohan to Barack Obama to LeBron James.
New York, New York (PRWEB) May 23, 2013
Dreamkind announced the launch of Newsflash, an innovative social trivia game based on the latest news and entertainment from the day. Fresh trivia is written daily by the Newsflash editorial staff and players get their news by playing different trivia games with their friends.
"It's a new way to get your news," Jay Schiffman, Dreamkind's president said. "We think it's great because you're playing a fast and fun game with your friends while taking in the top news stories. Our game covers the latest current events: from Lindsay Lohan to Barack Obama to LeBron James."
The Newsflash editorial staff writes new content and trivia every day about politics, celebrity gossip, sports, music, movies, TV, business, tech, and other trending topics. Free and Premium versions of the app are now available for iPhone, iPod Touch, and iPad.
Newsflash features:

Tons of different newsworthy categories including TV, Music, Sports, Politics, Tech, Big Brands, Movies, Business, and many more
Special content packs that test your knowledge with topics like "NBA Playoffs," "Cheesy 80's Songs," "Iron Man 3," and "Celebrity Love Triangles"
The ability to easily find Facebook friends and challenge them to see who's the expert
Five different game types including matching, unscramble word jumbles, and name-the-picture
Players win coins and can purchase specialty content and power-ups
Free daily spins of the Newsflash slot machine
Newsflash has a wide variety of question categories ranging from late-breaking news to timely stories about science, lifestyle, books, and other current topics. Each day Newsflash adds interesting up-to-the-minute trivia questions straight from the headlines so people can stay informed while they have fun with their friends.
"If it's a celebrity getting arrested or a politician getting caught with his pants down, it's in Newsflash!" said Clarynne Blanchard, the game's senior producer. "So, if you know as much about Barack Obama's economic policy as you do about Kim Kardashian's dating policy, then Newsflash is the game for you. Grab a friend and play Newsflash today!"
Newsflash can be downloaded for free from the iTunes store at this address: http://www.playnewsflash.com/free.
About Dreamkind
Dreamkind is an award-winning digital studio that develops apps, online games, and animations under its own brand and in partnership with leading international entertainment companies.
Contact Information
For more information about Dreamkind, visit http://www.dreamkind.com or contact Matt Cohen at matt(at)dreamkind(dot)com.