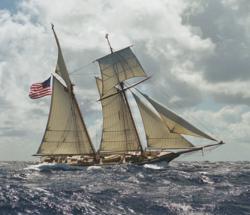 There is a special relationship between the sailors of tall ships today and throughout history that can only be described as spiritual.
(PRWEB) May 08, 2013
As she sailed over the site where the tall ship Bounty sank in the North Atlantic, a solemn ceremony was held aboard the tall ship Lynx this morning honoring the Bounty's captain and a crew member who drowned when Bounty succumbed to the fury of Hurricane Sandy in October.
Before placing it in a bottle to be set adrift at the site, Lynx Captain Bob Nelson read the Lynx crew's letter of tribute to the fellow seafarers who were swept away in the storm.
"The crew of Lynx would like to pause on our voyage north to honor and remember the two crew members, Claudene Christian and Captain Robin Walbridge, of the H.M.S. Bounty, that were lost last October when she sunk during Hurricane Sandy.
"Captain Walbridge devoted much of his life at sea with the tall ship Bounty. No one can doubt his dedication to this great ship. Robin is now one with the sea where he spent most of his life. Claudene lost her life doing something she loved. She had a passion for the Bounty and life; it ended all too early.
"As crew of the Lynx, we may not have individually known these dedicated sailors, but we know them. We know what makes them love this life and accept the dangers of a life at sea. We know deep down what it takes to take on a life at sea on a tall ship. We all know them.
"We cast this message of remembrance into the vastness of the sea. This message will drift in the waters where Bounty's memories lie everlasting. Claudene and Robin, may you rest in peace."
After wintering in Fort Myers Beach and St. Petersburg, FL until last month, Lynx is sailing north for maintenance in Mystic, CT, and then on into the Saint Lawrence Seaway and the Great Lakes to participate in War of 1812 bicentennial commemoration ceremonies with other tall ships.
Lynx, a replica of the armed, fast privateer sailing ship that helped America win the War of 1812, returns to Fort Myers Beach and St. Petersburg in the fall to winter over in Florida in 2014.
"There is a special relationship between the sailors of tall ships today and throughout history that can only be described as spiritual," commented Jeffrey Woods, Executive Director of the Lynx Educational Foundation, the non-profit that operates and maintains Lynx. "When Captain Nelson and his crew paused this morning over the exact position where Bounty went down, to honor two lost comrades of the sea, one must believe that the departed spirits somehow knew and were grateful for the tribute."
About Lynx
The Lynx Educational Foundation is a non-profit, non-partisan, educational organization, dedicated to hands-on educational programs that teach the history of America's struggle to preserve its independence. The maritime challenges during the War of 1812 are taught aboard the American Privateer Schooner Lynx utilizing a comprehensive, interactive program designed to enrich personal achievement through teamwork and the discipline of sail training.