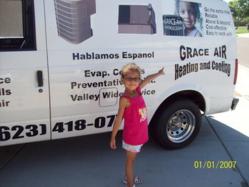 Grace Aire LLC Heating & Cooling is now offering a 10% discount on parts and labor when consumers purchase a maintenance plan.
Phoenix, Arizona (PRWEB) May 09, 2013
Benjamin Carbonell, owner of Grace Aire LLC Heating & Cooling has been working with businesses and homeowners for six years in the Phoenix market. He proudly named the business after his daughter, Grace, in 2007. After setting up shop, Carbonell set out to offer the very best in heating and air service in the business.
"We offer maintenance, repair, replacement and installation and work on any make and model of equipment," said Carbonell. "To make sure your heating and cooling systems are running properly, annual maintenance is highly recommended," he added.
He also shares these economizing tips to save homeowners and businesses money during this coming hot summer season.
1. Depending on the size of the home or business, consumers can save 3% on cooling costs for every one-degree warmer. Simply raising the thermostat from 73 to 78 degrees can produce savings of up to 15%.
2. Install mini-blinds or light colored window shades. Blinds can be highly effective and reduce heat from direct sunlight by as much as 40-50%. On the outside of the home, hang bamboo shades or tightly woven screens in front of windows. This can stop up to 80% of the sun's heat from entering the home.
3. Keep windows closed during the day. At night, when it's cooler, open windows for ventilation and fresh air. Switch on a fan instead of the air conditioner to save even more.
4. Schedule annual equipment tuned-ups. Simple tune-ups can pay for themselves when technicians optimize A/C systems for peak performance. Maintenance is a good way for homeowners to know that their equipment has been checked over and is working at the best efficiency levels.
5. Clean your air conditioner filter at least once a month. Dust will accumulate; build up and can significantly reduce airflow and performance.
6. The right size unit, for the right size space. An A/C unit that is too small will not cool any home effectively, and an A/C that is too large will consume much more energy than necessary.
7. Seal all air ducts. Insulate ducts that run through rooms that don't need cooling, like the basement or the attic.
8. Upgrade equipment. Newer, modern high efficiency units perform much better. Older A/C systems have a SEER (seasonal energy efficiency ratio) of only 6 or 7, while the best air conditioners on the market today offer SEER as high as 13. That means that it will consume almost 50% less energy, which pays for the equipment over time.
9. Cooking, drying cloth or dishwashing generates a lot of heat. Try to delay these activities until the evening, when it gets cooler.
Grace Aire LLC Heating & Cooling is now offering a 10% discount on parts and labor when consumers purchase a maintenance plan. For seniors over 65, Grace will deduct an additional 5%. Check them out today and join them on Facebook at http://mycinsay.com/c/grace-aire-llc/central-heating-air-conditioning-hvac