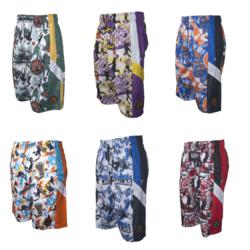 New York, NY (PRWEB) May 09, 2013
Flow Society, a national sportswear brand, adds a basketball line to their existing collection, including lacrosse and golf gear. The NYC-based company is well-known throughout the country for their unique and quirky designs, unmatched by other sportswear brands. Debuting this Spring, the Flow Society Basketball line is already enjoying a sell-out season with their products in high demand.
The shorts were constructed with mesh fabric to keep "ballers" cool and comfortable during the heat of the game, and keep the athlete quick on the court. The line's selection includes fun prints inspired by the great American sport cities, and classic Flow Society favorites like our Rasta influenced designs. The shorts can be found at retailers such as Dick's Sporting Goods, Player's Connection (Davie, FL), Plaza Surf & Sports (Long Island, NY), Sneakerology (Greenvale, NY), Turnstyle (Weston, FL), Athletic Shoe Factory (CT), Lester's, Denny's Childrenswear, Camp Headquarters (Newtown, MA), Neils (NY, Scarsdale, Boca Raton), Epstein's Dry Goods (Tuckahoe, NY), Incredible Feets (Long Island, NY), and online at http://www.ampedupapparel.com.
The brand's staff and executives are looking forward to the expansion of their sportswear with this new addition. "We are so excited to marry the Flow attitude and style with another great sport like basketball," said Flow Society Marketing Coordinator, Kristen Rochler. "Given its initial success you should expect to be seeing more Hoops and some new sports lines as well in the near future."