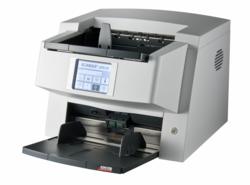 The independent testing at BLI confirms what we've long considered to be true: that InoTec offers a sustainable and efficient product line in the professional high-speed scanner market.
Frederick, Maryland (PRWEB) May 10, 2013
The Crowley Company, exclusive North American distributor for the German-manufactured InoTec document scanners, announces that three of InoTec's 400-series document scanners have been awarded 2013 Buyers Laboratory (BLI)Winter "Picks." Buyers Laboratory LLC, of Hackensack, New Jersey, is the world's leading independent tester of document imaging products. According to a BLI statement, which called the InoTec SCAMAX-series a "production powerhouse," the 403, 413 and 423 series gave excellent overall performances during BLI's comprehensive product evaluations. The scanners were awarded in the low-volume (403CD model), mid-volume (413CD model) and high-volume (423CD model) production scanner categories. InoTec had three of the six scanners selected for the winter "Picks."
HIGH OCR. UNLIMITED SCAN PROFILES.
According to Lisa Reider, BLI's senior product editor for scanners, "In addition to the unique hardware design, the [InoTec] units offer a superb selection of software and imaging features to help clean up and route digitized documents. In fact, the units exhibited the highest overall OCR accuracy rate of any scanner tested to date." Reider also noted that "with the help of SCAMAX Scan+, a virtually unlimited number of scan profiles can be created for frequently used operations."
Wolf-Christopher Gramatte, InoTec Organisationssysteme's vice director of international sales, notes that "the independent testing at BLI confirms what we've long considered to be true: that InoTec offers a sustainable and efficient product line in the professional high-speed scanner market with our SCAMAX 400-series models."
PRODUCTION-VOLUME SCANNING
Matthew McCabe, Crowley vice president, expounds on Gramatte's comment. "There is a lot of iconic and credible competition in the document scanning market. Crowley has selected to exclusively distribute the InoTec brand because the scanners are virtually maintenance-free, the image quality is excellent, they work 24/7/365 and they can be upgraded as new technology arises versus having to be replaced, making them a solid long-term investment. As we primarily market to records and operations managers, archivists and service bureaus with mid- to high-volume capture demands, the InoTec scanners are an ideal fit. We know this for fact as we operate InoTec scanners in our own national scanning bureau."
###
About The Crowley Company
The Crowley Company is a world-leader in digital and analog film technologies and provides an extensive number of digital document and film conversion services to the academic, publishing, commercial, government and archive sectors. The company manufactures, distributes and services high-speed microfilm, microfiche, aperture card, book and document scanners, microfilm duplicators, film processors and micrographics equipment. Manufactured brands include Mekel Technology, Wicks and Wilson, HF Processors and Extek Microsystems.
About InoTec
InoTec GmbH optimizes business processes with technically precise and reliable document scanners made in Germany. InoTec scanners are used wherever vast amounts of documents have to be scanned and optimum reliability is a key requirement. Scanner throughput ranges from 90 images per minute simplex up to 460 images per minute in duplex. InoTec ensures worldwide service through distribution partners in every corner of the world.
About Buyers Lab
For over 50 years, Buyers Laboratory (BLI) has been the leading source for unbiased and reliable intelligence for the global digital imaging industry.