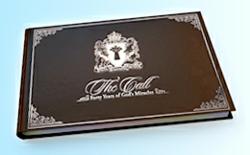 (PRWEB) May 08, 2013
On May 28, 1973 Trinity Broadcasting Network, America's most-watched faith channel, made television history when it launched its first station, a tiny UHF channel in Southern California airing a few hours of programming a night. Forty years later TBN stands as the nation's second largest television broadcast group and the world's largest religious broadcaster, with 24 distinct global networks and nearly 20,000 television and cable affiliates worldwide, broadcasting a broad range faith-and-family programming 24 hours a day.
TBN announced that it is wrapping up production on a nearly 200-page full-color pictorial history documenting the past 40 years of the network's monumental growth, an era that parallels the increasing influence of Christian television around the world.
"In many ways TBN's development mirrors the unique story of Christian television, with all the trials and hardships, along with the successes and victories," said TBN Vice President Matthew Crouch. "From that first little station my parents, Paul and Jan Crouch, started with nothing more than faith in God and a small team of partners, Trinity Broadcasting Network — and Christian television — have grown to touch every inhabited continent with the life-changing gospel of Jesus Christ. This intimate and personal look at TBN's 40 years of broadcast ministry will show you how it all unfolded, and how the miracle of Christian TV continues to change lives."
Entitled "The Call: Forty Years of God's Miracles," this remarkable pictorial history follows Paul and Jan Crouch from the moment God called them to launch their first TV station, through each significant chapter in TBN's history, recounting the many mountaintops, valleys, heartaches, and victories that have gone into molding TBN into one of the most impacting Christian outreaches — as well as one of the most influential networks — in the world. From its development in the 1980s and '90s into the nation's leading Christian network, through its dramatic global expansion over the past twenty years, to its role today as a leader in digital and online broadcast, TBN has been at the forefront of Christian television and media throughout four decades. This one-of-a-kind book provides readers with a front-row look at how it all happened.
"This full-color book not only documents the history of TBN, with the scores of ministries, international leaders, and other notable people who played a part," said Matthew Crouch. "It really provides a close-up view in the development of Christian television and media that have had such an impact on our nation and world. We think The Call is a book that will connect with the hearts of many people."
The anticipated publication date for "The Call" is May 28, TBN's 40th anniversary, and the book's official release will be announced on TBN's website, http://www.tbn.org.