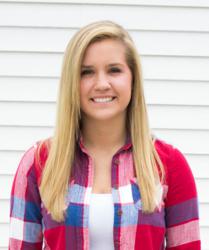 I'm very excited to continue being a member of this creative team.
(PRWEB) May 13, 2013
Former Idea Marketing Group intern Chelsie Kliese, has traded in her intern badge for employee status with a permanent spot at Idea following the completion of her internship.
Chelsie graduated from Aurora University with a degree in business and marketing. Because of her hard work ethic, skill and commitment to the company, she was offered a position and happily accepted. Since January she has spent a great deal of time working with the team at Idea and has become an integral part of the team and is looking forward to continuing her career at Idea. Chelsie will be working as the marketing and public relations coordinator at Idea and said she is "excited to be a part of such a creative and talented team."
When talking about Chelsie, President of Idea Marketing Group Darren Fox says, "Chelsie is a great employee and we are excited to see her transition from intern to employee. We are all confident that she will do great." Chelsie plans to work hard to be a part of this company's continuing success and to help this business grow.
To learn more about Idea Marketing Group or the team, just check out the Idea Marketing Group website.