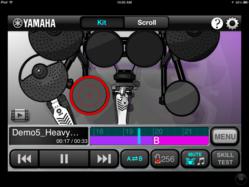 "This app is a great tool for teachers and drummers to use for educational purposes in the practice studio," said Tom Griffin, Yamaha Electronic Drum Product Specialist.
BUENA PARK, Calif. (PRWEB) May 09, 2013
Yamaha today introduced a new version of the free Song Beats App designed for drummers and DTX electronic drum players with iPhones or iPod Touch devices, which makes drum practice, rehearsal and learning more fun and productive.
On the Song Beats kit screen, the drum beat for the selected song is displayed over a playable DTX drum set with glowing rings that indicate which drums to strike in real-time. A mute feature can silence or isolate the drum track of the included MIDI song files, which is beneficial to beginners and pro players alike. In addition, the tempo can be adjusted and sections can be repeated with ease. Letting anyone accompany their favorite MIDI tracks with DTX drum sounds, whenever they are away from their kit.
The Skill Test is a newly added function that compares your performance to the song beat of the selected drum track. A rating is displayed for each drum together with an overall rating, to gauge your rhythm and timing. More advanced possibilities include a scrolling display mode that maps out the drum parts and the option to customize the band accompaniment with the onboard high quality general MIDI voices.
The app really shines when drummers connect their DTX400 and DTX502 series electronic drums to their iOS device with an optional Yamaha UX-1 cable to create an integrated system for learning drumbeats.
The program, which is perfect for practice, also makes it easier for teachers and drummers to bring custom drum accompaniments into their practice sessions, and with hundreds of songs available, it is suitable for all levels and musical styles.
"This app is a great tool for teachers and drummers to use for educational purposes in the practice studio," said Tom Griffin, Yamaha Electronic Drum Product Specialist. "It's also a lot of fun for the recreational drummer looking for a free music player that can isolate and mute the drum track to hundreds of play-along songs."
Completing the feature set are ten built-in songs and ten drum patterns to get drummers started immediately. Each song is accompanied by an informative reference video. There's even a dedicated Shop Screen (in selected regions only) that provides access to hundreds of Yamaha MIDI songs. Any midi files already owned by the user can be simply loaded into the App via iTunes File Sharing.
The App is compatible with Yamaha's new DTX502 models, introduced at the 2013 Musikmesse trade show.
For more information, write Yamaha Corporation of America, Music Production, P.O. Box 6600, Buena Park, CA 90620-6600; telephone (714) 522-9105; or visit http://4wrd.it/usayamaha.
# # #
About Yamaha
Yamaha Corporation of America (YCA) is one of the largest subsidiaries of Yamaha Corporation, Japan and offers a full line of award-winning musical instruments, sound reinforcement and home entertainment products to the U.S. market. Products include: Yamaha acoustic, digital and hybrid pianos, portable keyboards, guitars, acoustic and electronic drums, band and orchestral instruments, marching percussion products, synthesizers, professional digital and analog audio equipment, Steinberg recording products and Nexo commercial audio products, as well as AV receivers, amplifiers, Blu-ray/CD players, iPod docking systems, home-theater-in-a-box systems and its exclusive line of Digital Sound Projectors. YCA markets innovative, finely crafted technology and entertainment products and musical instruments targeted to the hobbyist, education, worship, professional music, installation and consumer markets.