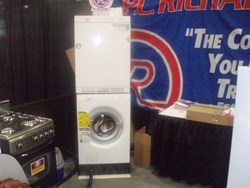 Beltsville, MD (PRWEB) May 14, 2013
PanStand's innovative design lets the washer set on two rails that elevate the machine making service easier. This also creates a 6-gallon reservoir that provides superior protection and is also deep enough to accommodate an optional 200-gph sensor activated pump. The pump eliminating the rigid PVC drain which greatly reduces and construction costs by eliminating the separate PVC drain line.
Wasted floor space is a huge expense in apartment construction and property management. Note that eliminating the drain connections recaptures 1 – 2 sq. ft. of space and greatly improves appearance. PanStands square sides and elevated rails provide complete water containment without wasting the 2 sq. ft. seen with conventional pans that require the excess space to allow machine movement. That space frequently collects dust and debris which clogs conventional gravity drains, greatly reducing their effectiveness.
Visitors to the PC Richard and Son booth were amazed watching one person easily move a stacked washer and dryer using an ordinary shop-vac blower. They noted that this could reduce the space allotted for laundry by eliminating otherwise empty space needed for service. This is particularly important when adding in-unit laundry in established communities. Maintenance supervisors commented on the savings in manpower.
The potential for innovative laundry room design was the main feature at Creative Laundry's booth at the PMA Expo in DC. PanStands air-floatation allows tables and cabinets to be added directly atop the equipment enabling the creation of laundry centers in a fraction of the space. CLS president, Dan Hayes, said, "PanStand is a catalyst that allows us to convert laundry rooms from low value necessities into revenue enhancing amenities."
Property managers were particularly impressed with the cleanliness. Because PanStand allows easy movement , plumbing connections can be hidden in adjacent broom closets, or other cabinetry. The square sides prevent dirt accumulation under the machines. PanStand provides a simple, cost-effective, solution to a wide variety of problems in multi-family communities. Developers, architects, managers, insurers and maintenance staff all saw different features and benefits in the product but agreed on the overall cost savings.
For more information visit http://www.elpproducts.com or contact us via e-mail info(at)thepanstand(dot)com.
PanStand is proudly manufactured in the USA.
Engineered Laundry Products, LLC is an Ohio company specializing in the design and manufacture of laundry accessories for the multi-family and residential markets.
Corporate Offices
196 Heatherdown Drive
Westerville, Ohio 43081
Sales Office
12104 G Indian Creek
Beltsville, Maryland 20705