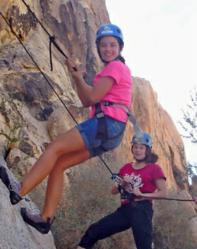 We know the Urban Adventure camp will be both engaging and challenging to this older age group. Launa Prince, Camp Director at Highland Hall Waldorf School
Northridge, CA (PRWEB) May 09, 2013
Highland Hall Waldorf School is pleased to announce an addition to its current summer day camp offerings. The Urban Adventure Camp will be lead by class teachers Carrie Ashby and Katie Sobczak as a way to explore the many wonders of Los Angeles. Registration is open to all students entering 7th through 10th grade at http://bit.ly/15nQEDJ. The camp will run in three individual weekly segments from July 8-26, with each week featuring a different fun and challenging experience for the students.
July 8-12: "The History of Los Angeles"
Highlights of this week will include navigating the LA Metro to and around downtown Los Angeles. Various walking tours of the City will include visiting Angel's Flight, Olvera Street, Chinatown, Koreatown, and Little Tokyo, taking a scavenger hunt at the Central Library and around the city, discovering Watts Towers and "behind the scenes" in Hollywood, hiking to the Griffith Park Observatory, and going to Barnsdall Park to tour Frank Lloyd Wright's Hollyhock House.
July 15-19: "Changing Our World"
This week will focus on local groups and individuals working to change the world for the better. Students will visit and participate in the work of various organizations, such as Homeboy Industries, Para Los Ninos on Skid Row, Burbank Bicycles, LA River clean-up, Heal the Bay, Tree People, a local soup kitchen and/or food bank, and the Wildlife Learning Center.
July 22-26: "Survival of the Fittest"
During this last segment, students will learn survival skills like fire-starting and foraging for edible plants. Other activities will include outdoor adventures, such as sea kayaking, rock climbing, or a high ropes course. The week will conclude with an overnight campout at a local State Park.
"We're delighted to offer this extension to our summer camp offerings," says Highland Hall camp director, Launa Prince. "We know the Urban Adventure camp will be both engaging and challenging to this older age group, who are looking for a fun way to spend the summer."
The cost of the Urban Adventure camp at Highland Hall is $325 per week. Online registration is available at http://bit.ly/15nQEDJ.
Highland Hall Waldorf School is located in Northridge, California. Founded in 1955, it is the oldest Waldorf school in the western United States and offers an independent alternative to public and other private schools in Los Angeles, providing the Waldorf curriculum from Early Childhood through High School graduation. Highland Hall, a non-profit school, does not discriminate due to race, religion, gender, national origin, disability, or other basis protected by law.