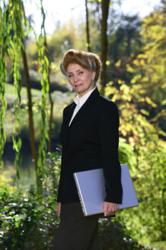 Grants Pass, OR (PRWEB) May 09, 2013
Sharon Kleyne, water advocate and entrepreneur, keeps a globe in her office and uses it frequently, not only to locate countries where she does business or talks about on her radio show, but to constantly remind herself that every environmental decision – especially decisions about water - has a potentially global impact. Kleyne is a global water advocate, radio commentator and Chairman of Bio-Logic Aqua Research, a global manufacturer of water mist products to humidify skin and eyes.
"One look at a globe tells you that we are all neighbors," says Mrs. Kleyne, "and that we are all dependent on each other. The vast areas of blue remind us of the global importance of water. These are facts that I try to keep in mind as I go through my day, and, I believe everyone else would benefit from keeping them in mind, also. Having a globe in my office, near my desk, and frequently referring to it never lets me forget."
"The global perspective," Kleyne explains, "is especially relevant on Earth Day, which I celebrate on March 21. That is first day of spring, the day of global renewal, the day set aside by the United Nations and the day suggested by Earth Day founder John McConnell." In the United States, Earth Day is celebrated on April 22.
The purpose of Earth Day, according to Mrs. Kleyne, is to remind everyone that environmental (and social/political) decisions made in one country can impact many other countries. Water shortages in Jordan can lead to a war that effects global politics. Air pollution in China or India could end up in the United States and Mexico. And auto emissions in Europe could alter the agricultural climate in Russia and Central Asia.
Education and cooperation, Mrs. Kleyne concludes, will save the planet. And we're all in this together.
The Sharon Kleyne Hour Power of Water syndicated radio is broadcast live on Mondays, 10 a.m., PST/PDT. The show is heard on the Internet on VoiceAmerica/World Talk Radio, Green Talk Network and Apple iTunes.