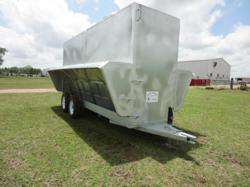 Our galvanized bulk feeders are designed to last a lifetime by eliminating corrosion concerns.
Yoakum, Texas (PRWEB) May 09, 2013
Responding to customer requests for corrosion-resistant livestock equipment, Ranger Gate has collaborated with AZZ Incorporated, North America's largest galvanizer, to design and build a line of galvanized bulk feeders. Using a hot-dip galvanizing process to protect the most vulnerable feeder components from corrosion, Ranger Gate feeders are designed to have a much longer service life than traditional painted-steel products.
Ranger Gate offers two styles of galvanized bulk feeders, available from 1- to 6-ton capacities. Ranch models are towable with heavy-duty jacks and new axles and wheels, while feedlot models are placed on skids. All trailer and skid components are hot-dip galvanized at a state-of-the-art AZZ Incorporated galvanizing facility to give them a durable zinc coating, which resists rust from water and other corrosive materials that drip from the trough area.
"In harsh climates, it's common for painted-steel trailers and skids to rust out after only a couple seasons of use," said Rick Jahn, owner of Ranger Gate. "Our galvanized bulk feeders are designed to last a lifetime by eliminating corrosion concerns. They can potentially help ranchers save thousands of dollars in repair and replacement costs."
Additionally, Ranger Gate's feeders feature a modular design with hoppers made from 16-gauge, pre-galvanized steel. Troughs are offered with the choice of galvanized-steel or polyethylene construction.
Other unique features include rear clean-out doors and a 7.5-foot-wide sliding top door for easy loading. Ranger Gate also specializes in custom feeder designs to meet any rancher's specific needs.
In addition to its bulk feeders, Ranger Gate offers a variety of other galvanized products, including gates, panels, tanks and kennels.
For more information, contact Ranger Gate, P.O. Box 350, Yoakum, TX, 77995, call 800-722-1299, fax 361-293-9256, or visit http://www.rangergate.com.