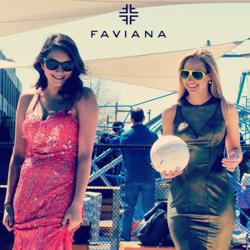 NEW YORK, N.Y. (PRWEB) May 09, 2013
Celebrated evening wear designer Faviana, released today a new video, Dress Up Your Life. This video features a variety of Faviana customers participating in a variety of activities all while dressed in Faviana evening gown dress, to showcase that everyday is a special occasion.
Faviana has been renowned over the years for creating the perfect formal dress wear for any special occasion, and being able to predict the best fashion trends. Most recently, Omid Moradi, CEO of Faviana, was quoted in the New York Times about prom dress inspiration. Designed with the fashion forward girl in mind, Faviana speaks to a variety of sophisticated consumers.
Actress and fashionista Ashley Benson is the face of Faviana. Benson is well known for her recent role in the Harmony Korine film, Spring Breakers, and her role as Hanna Marin in ABC Family's hit series, Pretty Little Liars.
Having established itself over the past few years as the 'go to' brand for the best dresses for evening, Faviana recently launched their new collection, Faviana Glamour. Faviana Glamour is the brand's premier, signature line, catering to the fashion forward woman who appreciates value and style.
You can watch the Dress Up Your Life video on Faviana's Vimeo Channel. Faviana collections are available at specialty and department stores.