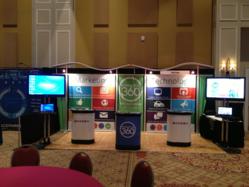 Amarillo, TX (PRWEB) May 08, 2013
It is another beautiful day in Orlando, Florida and Interactive 360, Inc. will once again be exhibiting all their great digital marketing products and services at the 14th Digital Dealer Conference and Expo. They are just one of over 120 exhibitors on hand at the Rosen Shingle Creek Resort in Orlando demonstrating a variety of products and services designed to help auto dealerships succeed in the digital marketing world. Interactive 360, Inc. and their unique "one-stop shop" approach to automotive digital marketing is unique and well worth a stop at their booth. CEO Rick McLey as well as other members of the Interactive 360, Inc. team will be on hand to provide demonstrations and answer questions. We will be giving away two days complimentary on-site training when you sign up with us in Orlando. The event will end tomorrow.
The Digital Dealer Conference and Expo features more than 100 workshops, sessions and case studies covering all aspects of automotive digital marketing. In addition to the workshops, the three-day event includes over 120 different technology specific exhibitors providing information and demonstrations of their innovative products and services. Some of the digital marketing areas covered include Sales, Data & Analytics, Online Reputation Management as well as Social Media and Website Development. With some of the most innovative companies in the United States in attendance, this event is one that no automotive dealership representatives should miss.
Interactive 360, Inc. and their unique marketing packages provide a variety of digital marketing tools all under one roof. They allow dealerships to have all of their digital marketing needs attended to by one company that provides one cohesive package. Whether you just want improve your social media marketing and inventory management, or give your dealership a complete online makeover, Interactive 360, Inc. can provide all of this, and much more, through one diverse team of professionals. As CEO Rick McLey explains, "Through our passion, focus and industry expertise, our mission is to position all of our clients for market dominance". For more information about Interactive 360, Inc. as well as all of their digital marketing services and products, please visit their website at Interactive360.com or call them toll-free at 888-762-7407.