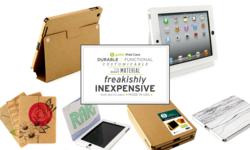 Every parent and student should have one
Seattle, WA (PRWEB) May 09, 2013
Apple Pie, the best way to shop for American products, is introducing the new $7 iPad case by Guided Products. Apple Pie is the exclusive retail launch partner for the new case and is offering the product on sale for a limited time.
When Guided Products set out to build a new line of tablet and iPad cases, they took a new approach. Instead of charging more, they're charging less. Instead of manufacturing overseas, they're manufacturing in the USA. Instead of creating items destined for the landfill, Guided chose to make items 100% recyclable, while still retaining all the form and function to protect.
Because of the new approach and features, this new product is the best kids' iPad case in the market. Designed to be drawn on, painted on, stickered, doodled and personalized in almost any way imaginable, the case is a hit with parents, students and artists of all ages.
Here's what was demanded during the creation of the product:
FULL COVERAGE - to protect the front, back and corners from small drops and contact
FUNCTIONAL - must stand for a lean-back experiences (movies) and rest at an angle for lean-forward experiences (typing/games), must open and close easily
SOLID DESIGN - sleek, non bulky layout
MAKE IT YOUR OWN - we all love to personalize our things, so do our little people
FREAKISHLY INEXPENSIVE - <$7 MSRP
NO LANDFILL REQUIRED
MADE IN USA
Given the price point and feature set, this case is the best choice for a cheap iPad case.
"As a parent of two children under the age of five, I now get to bring my kid's creative exploits with me wherever I go and both the kids and I love that," said Brant Williams, Co-Founder. "Showing up to a business meeting with my little boy's best shot at an airplane and heart on my iPad cover immediately takes down any barriers that may have existed walking in and makes things more personable, which is really fun."
The new Guided iPad case is designed and priced to be replaced or swapped out if your mood changes or you run out of space to personalize it. They are sold in 3-packs of either brown kraft, or white. At the time of this release, Apple Pie is offering the Guided iPad cases at the sale price of $16.99 for a 3-pack.
If tech bloggers would like to review the new case, samples are available.
ABOUT APPLE PIE
Apple Pie is the best way to shop for American products. Their selection of Made in USA goods is growing fast, as is their fan base. Based in Seattle, WA.
ABOUT GUIDED PRODUCTS
Guided Products is a fast growing brand of consumer products built in the USA with their fellow Americans in mind.