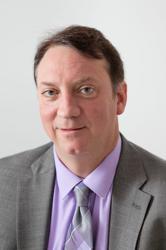 NextBus has a proven track record in North America, with more than 100 transit agency deployments in the U.S. and Canada, and Ian has the track record to take the company to the international arena
SAN DIEGO, Calif. (PRWEB) May 09, 2013
Cubic Transportation Systems, a leading integrator of payment and information technology and services for intelligent travel solutions, today announced that Ian Newberg has been named president of its NextBus subsidiary, North America's leading provider of real-time passenger information systems.
Newberg brings more than 20 years of transportation experience to NextBus, including ten years with Cubic from 1996-2006 when he was vice president of the company's Washington, DC office. Most recently, he was vice president and general manager of public transport and advanced systems for Xerox Corporation.
"NextBus has a proven track record in North America, with more than 100 transit agency deployments in the U.S. and Canada, and Ian has the track record to take the company to the international arena," said Richard Wunderle, senior vice president and general manager, North America operations, Cubic Transportation Systems. "NextBus is a key component of our NextCity initiative to deliver a fully integrated, whole-of-transport journey, information and payments management system that will empower transportation stakeholders to predict, influence and manage transportation demand while delivering actionable information to travelers."
"NextBus already does this today, through its Software-as-a-Service (SaaS) solution that connects to bus riders' mobile phones and takes the guesswork out of using public transportation by providing riders with the technological capability to determine when buses will arrive at any given stop."
Newberg is a transportation expert, having worked in the industry for most of his career, starting with the U.S. Department of Transportation. He structured, negotiated and implemented the $210 million National Automated Highway System consortium effort with General Motors – the largest project at that time to research and demonstrate the feasibility of cars being guided by the road rather than the driver.
Newberg also was president of Parkeon North America specializing in transit and system applications for municipal clients.
About Cubic Transportation Systems
Cubic® Transportation Systems, Inc., is part of Cubic Corporation. Cubic Corporation is the parent company of three major business segments: Defense Systems, Mission Support Services and Transportation Systems. Cubic Defense Systems is a leading provider of realistic combat training systems and defense electronics. Mission Support Services is a leading provider of training, operations, maintenance, technical and other support services for U.S. and allied nations.
Cubic® Transportation Systems, Inc., is a leading integrator of payment and information technology and services for intelligent travel solutions. Cubic delivers integrated solutions that help transport operators manage their operations and services and give passengers choices in the smartest and easiest ways to pay their fares. Cubic specializes in design, development, manufacture, supply, installation, integration, services and information. Services provided by Cubic include on-site management, central systems, operations support, patron support, business support and field services.
Every year, nearly 7 billion rides are taken worldwide using Cubic payment and information systems. Cubic has delivered over 400 projects in 40 major markets on five continents. Active projects include London; Brisbane (Southeast Queensland) region, Australia; New York/New Jersey region; Washington, D.C. /Baltimore/Virginia region; Los Angeles region; San Diego region; San Francisco region; Minneapolis/St. Paul; Chicago; Atlanta region; Miami (South Florida) region; Vancouver and Edmonton, Canada; Sydney (New South Wales), Australia; Germany; and Scandinavia.
For more information about Cubic, see the company's website at http://www.cubic.com.
Contacts:
Debra Montner
Montner & Associates
PH: 203-226-9290 ext. 12
Cell: 203-984-7861
Timothy A. Hill
Director of Corporate Communications
Cubic Corporation
PH: 858-505-2430
Cell: 858-232-2927
timothy(dot)hill(at)cubic(dot)com