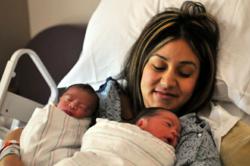 We couldn't possibly think of a better Mother's Day gift than these two babies.
Las Vegas, NV (PRWEB) May 09, 2013
Mark and Ana Nicolas, who conceived last June through donated In Vitro Fertilization (IVF) treatment, delivered boy/girl twins on April 29, 2013. The boy, who they named Max, weighed 6 lbs. 3 oz. and the girl, named Hope, weighed in at 5 lbs. 1 oz. Ana and Mark were the winners of a drawing for IVF treatment held at an infertility education seminar hosted by Sher Fertility Institute in April 2012.
The Nicolases had been struggling to conceive for several years and felt like they had run out of options as well as finances for fertility treatment, where costs can run into the tens of thousands of dollars. Mark, an employee at Spring Valley Hospital, heard about a seminar being hosted by Sher Fertility Institute at the hospital, and where an IVF treatment worth $11,000 was being donated to one couple in attendance. He and Ana attended the seminar and were fortunate to win the drawing.
During the seminar, Dr. Jeffrey Fisch of Sher Fertility Institute presented case studies of several patients, whom he referred to as "Faith" and "Hope". After winning the drawing, Ana revealed that she had recently had the Japanese symbols for Faith and Hope tattooed on her wrists, representative of her quest to have children. She was surprised when Dr. Fisch used these names in his presentation, and saw it as a sign of good luck. Nevertheless, winning caught her off guard.
"I was in shock when they called my name," said Ana. "It sounded like they said 'Nichols' so I wasn't sure if it was us. The funny thing is, Mark had been called away to handle a hospital issue just before the drawing, so he didn't realize we had won until he saw me on stage having my picture taken."
The Nicolases underwent In Vitro Fertilization in June of 2012 with Dr. Jeffrey Fisch and found out shortly afterward that they were expecting twins – a boy and a girl. For names, they chose Max and Hope – a fitting tribute to Ana's journey.
The birth of the twins comes just in time for Ana to celebrate her first Mother's Day.
"We couldn't possibly think of a better Mother's Day gift than these two babies," said Mark. "We are thrilled to finally have them here – sleepless nights and all."
The IVF treatment donation was part of the Sher Institute's "Giving Back" initiative, which was developed to increase access to fertility treatment for those who need it but can't afford it. The Institute donates approximately 20 IVF treatments per year to patients through seminars, contests, and patient advocacy organizations as part of the initiative, which also includes other charitable programs such as:

Egg and sperm freezing for cancer patients
Patient education seminars
Discounted treatment for teachers, military personnel, first responders, and those with limited incomes.
About Sher Fertility Institute
Sher Fertility Institute comprises a national network of fertility clinics founded by Geoffrey Sher, MD, a pioneer in the field of Reproductive Medicine. Dr. Sher founded the first private (non-university-based) In Vitro Fertilization program in the United States in 1982. The Institute focuses on leading-edge scientific and technological breakthroughs with an emphasis on personalized fertility care. Dr. Sher received his specialty training under the "Fathers of IVF" – Robert Edwards and Patrick Steptoe. Edwards, who recently passed away, received the Nobel Prize for Medicine in 2012 for his contribution to the field of In Vitro Fertilization. Sher Fertility doctors have been responsible for many developments and breakthroughs in the treatment of infertility.