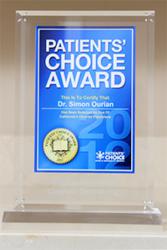 Los Angeles, CA (PRWEB) May 08, 2013
Dr. Simon Ourian, Medical Director of Epione Medical Corporation, is the recipient of his third consecutive Patient's Choice Award. Dr. Ourian practices cosmetic dermatology at his Beverly Hills office offering aesthetic procedures such as laser skin resurfacing, dermal fillers, and Botox.
"I am truly honored to have been given this award again," says Dr. Ourian. "I don't work alone; this award is really a testament to the efforts of the entire staff at Epione. We work hard every day to provide our clients the highest level of personal care and attention."
Dr. Ourian was chosen for this award based on the very positive ratings provided by his patients in a number of categories including Accurate Diagnosis, Bedside Manner, and Follows Up After Visits. To quote one patient rating: "I have been a patient of Dr. Ourian for the past 8 years. He is the most caring and dedicated doctor I have ever visited."
"So much goes into patient care," says Dr. Ourian, "and I think we go the extra mile that's appreciated by patients. We contact every patient after every appointment to make sure that they're doing well and that they understand and follow their after-care instructions. We want our patients to feel as though they've gotten the best medical care available combined with a five-star hotel level of customer service."
Dr. Ourian has been a pioneer in laser technology and non-invasive aesthetic procedures including Restylane, Juvéderm, Radiesse and Sculptra. These treatments are used for the correction or reversal of a variety of conditions such as acne, acne scars, skin discoloration, wrinkles, stretch marks, varicose veins, cellulite, and others. More information about aesthetic medical procedures can be found on Epione's website.