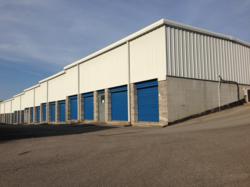 "We're privilege to be awarded the management contract and to brand the facility as US Storage Centers." Regional Manager East Coast, Howard Pryor
Newport Beach, CA (PRWEB) May 09, 2013
US Storage Centers, today, announced it has been awarded the management contract for the self storage facility located at 4611 Nolensville Road, Nashville, TN 37211. The facility has 688 units and a total of 75,905 rentable square feet. It also offers RV storage, boat storage and auto storage. This facility expands US Storage Centers' presence in Tennessee and underscores the company's rapid growth in third party management that has taken place throughout the United States.
"We are very excited about this opportunity. This marks our fourth storage facility in Tennessee. Also, Nashville is such a great city to work in, and the demand for self-storage is greatly due to the growing population," said Regional Manager of East Coast Operations, Howard Pryor. "We were fortunate enough to provide operational consulting to the owner while they were acquiring the facility. As a result, we know there is a lot of upside in growing revenue and the property value. We're privilege to be awarded the management contract and to brand the facility as US Storage Centers."
US Storage Centers has been a leading operator in the storage industry for nearly 30 years. It has experienced double digit growth in its third party management division since 2009 and is now one of the largest operators in the country.
About the Company:
US Storage Centers owns, operates, or manages a total of 70 self-storage facilities across the country. These facilities are located in a total of 12 states—with a concentration of locations in California, Arizona, Nevada, Texas, Tennessee, Florida, Georgia, Maryland, New Jersey, Massachusetts and Connecticut. They plan to expand their operations in each of these areas within the coming year. With more than 50% of their portfolio as owned assets, US Storage Centers takes the approach of managing every facility with the same focus in which they manage their own locations.
Jason Lopez
US Storage Centers
1-800-940-3414
http://www.USStorageCenters.com